An important part of running a business is making sure the work space or office is well maintained to provide a clean working environment for your employees and help boost your company's image.  ServiceMaster SouthWest offers professional janitorial services for all types of business environments in Sugar Land, TX including offices, hotels, retail stores, schools, hospitals, and research facilities among others.  We can create a custom cleaning plan for your business that suits your specific needs and budget and provide effective janitorial services using the best methods and cleaning products of the industry.
ServiceMaster Janitorial Services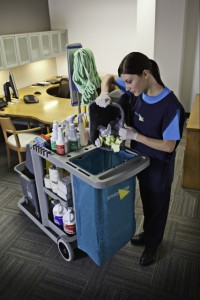 For over 55 years, ServiceMaster Clean has been a trusted name in the commercial cleaning industry and the technicians of ServiceMaster SouthWest employ the same proven methods that have helped ServiceMaster achieve its reputation.  We are dedicated to keeping your work space consistently clean and we provide the following janitorial services:
Daily, weekly, and monthly cleaning services
Office system cleaning
Kitchen and restroom cleaning
Dusting and window washing
Waste removal
Daily carpet care
Hard surface floor cleaning and maintenance
Entrance and lobby cleaning
Sanitization programs
ServiceMaster SouthWest offers professional janitorial services for all types of businesses in Sugar Land, TX 77487 and Fort Bend County.  Our staff will keep your work space clean on a consistent basis with daily, weekly, or monthly cleaning services and create a plan for your specific needs.  Contact us anytime at 281-247-3113 for more information about our janitorial services.
---
Related Janitorial Services
Janitorial Services in Stafford, TX 
Janitorial Services in Richmond, TX
Janitorial Services in Missouri City, TX 
---
Recent Reviews
Review by J.D.
Rating

"Everyone was very professional, friendly and helpful. This is the best "moving" experience I've had with a company. The employees were very honest – all the loose cash, gold/silver jewelry, all came back."
---
Review by T.T.
Rating

"They did a great job cleaning our parents' home. I would recommend their service to friends and I would use their service again in the future."
---
Review by D.S.
Rating

"Very thorough, very polite. Excellent service. If I need service in future I will call your service."
Customer Reviews