Serving the San Antonio area since 2008
After water damage occurs, it is imperative to seek help as soon as possible in order to save your home and precious belongings. ServiceMaster Restoration by Century in San Antonio, TX is ready to restore your property in any case of water damage.
Our 24-hour service is operated in San Antonio, TX. With staff trained to use state-of-the-art equipment, they perform techniques to restore damaged belongings to their original conditions.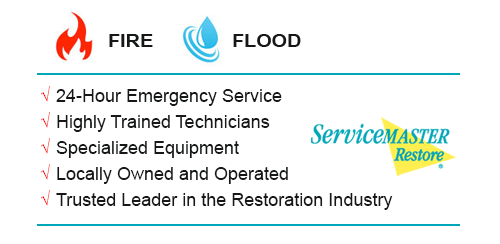 Customer satisfaction is our highest priority at ServiceMaster Restoration by Century. You deserve a home that provides a safe and healthy environment. That is why we are committed to a quality water and fire damage restoration service.
For commercial fire and water claims, we have experienced commercial project managers. They work with our clients to minimize material loss and business interruption.
ServiceMaster Restoration by Century has a history of partnering with the insurance industry; we proudly include many Texas leading insurers as our customers.
Flood Cleanup – Check Out This Video
For 24-hour water cleanup services in San Antonio, TX, call ServiceMaster Restoration by Century at (210)319-7207.
• Initial inspection
• Water extraction
• Removing all affected materials
• Sanitizing and disinfecting affected areas
• Using equipment to dry affected areas
• Final inspection
Sewage Cleanup
The ServiceMaster Restoration by Century in San Antonio, TX sewage cleanup team is available 24 hours a day! We are available for immediate cleanup to restore personal property while ensuring your home remains a healthy environment. Our sewer cleanup team will use the proper equipment and techniques necessary to effectively clean your home. We also use the latest technology to restore your carpet, furniture, walls, and other areas. Your home will be disinfected from sewage waste and returned to its original condition in no time.
Available 24/7
For emergency mitigation services in San Antonio, TX, call ServiceMaster Restoration by Century at (210) 319-7207. With our 24-hour service, our emergency call center is ready for you when you need us.
Related Flood Cleanup Services
Water Damage Repair in Austin, TX
Water Damage Restoration in Magnolia, TX
Water Damage Cleanup in Georgetown, TX
Flood Extraction in Round Rock, TX
Water Damage Mitigation in Pearland, TX
---
Recent Reviews
Review by

A.D.
Rating

"Your attention to detail. Appreciate your customer service and promptness in getting someone out to my home."
---
Review by

B.T.C.T.
Rating

"PROFESSIONAL, COURTEOUS, QUICK, NEAT AND KEPT US INFOR. WE WERE MED AS TO ALL ASPECTS OF THE PROJECTVERY SATISFIED."
---
Review by

J.J.
Rating

"Incredibly fast response!"