For many property owners, water damage is common due to the number of potential sources of which include pipe leaks, appliance malfunctions, natural flooding, and sewage backups. But until excess water can be removed, it will continue to spread and cause additional damage.
Target Restoration is available 24/7 in Pflugerville, TX to provide emergency water damage restoration services to dry out, disinfect, and repair the building structure. Our Master Water Restorers and IICRC-certified technicians have years of experience to restore damaged building materials of all types. Within a timely manner, you can expect your property to be renewed to its original condition.
Professional Water Damage Restoration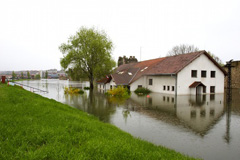 Regardless of the source, water damage will continue to spread to damage additional building materials until restoration services arrive. Excess moisture will also encourage mold growth, damage that can occur within 1-2 days after.
But our licensed technicians will respond immediately, drying out the building materials to prevent mold and other damage. We will then proceed to the repairs process, removing soiled porous materials and installing replacements.
Certified and Licensed
Before conducting the initial inspection, you can check to ensure that each of our technicians are IICRC-certified and Master Water Restorers. Both of these positions require field and classroom training, using professional cleaning products and restoration equipment to return properties to their original condition.
We are also HIPPA-compliant to remain confidential as well as follow set of health, safety, and legal requirements to eliminate all bacteria and restore safe living conditions. Finally, upon completion of the restoration project, we will work with your insurance provider to ensure a smooth claims process.
Our technicians have extensive experience in restoring all of the following types of buildings:
Restaurants
Warehouses and factories
Retail and corner stores
Assisted living facilities
Schools and universities
Hospitals and healthcare facilities
Our flood cleanup services cover all of the following steps:
Pre-inspection: As soon as Target Restoration arrives, we will inspect the property to determine all safety hazards, remove them, and proceed with the restoration process.
Drying: Our professionals will remove all excess water and dry out the building materials. Moisture meters and mapping technology will be able to determine all remaining moisture particles and eliminate them to prevent the risk of mold growth. This will be done by utilizing air movers to force circulation throughout the entire building.
Contents Restoration: After the damage has been contained, our IICRC-certified professionals and Master Water Restorers will fully restore water-damaged personal items of significant value. We can also work with you to determine which items are best to be restored vs. replaced.
Dehumidification and moisture control: Once the moisture has been removed from the structure, it will be removed from the air with powerful dehumidification equipment. Psychometric measurements will also be taken to ensure that excess moisture is dried out.
Deodorization: Our professionals will use ozone and hydroxyl generators in order to eliminate musty smells left behind from the water damage.
Structural repairs: Target Restoration will repair the structure by removing soiled porous materials, like carpeting, sub flooring, drywall, and insulation as well as installing replacements.
Emergency Response
When your home or building has been affected by water damage, it's important to reach out to professional restoration services immediately. This will not only limit the damage but prevent mold growth. Our technicians are licensed and experienced to respond right away, fully restoring building materials to their original condition.
Target Restoration is available 24/7 at (254) 613-7545 in Pflugerville, TX to provide emergency water damage restoration services.
---
Related Water Damage Restoration Services:
Flood & Fire Restoration Services in Temple, TX
Water Damage Cleanup in Belton, TX
Flood Cleanup and Water Damage Restoration in Killeen, TX
Water Damage Cleanup in Cedar Park, TX
Water Damage Repair in Lake Jackson, TX
---
Recent Reviews
---