ServiceMaster Restoration by Century
Flooding may be a common disaster, but it is one that still requires professionals to conduct restoration work for properties to be thoroughly dried out and restored. From rainstorms and hurricanes to malfunctioning appliances, there are several things that can cause water damage. Regardless, air circulation on its own isn't enough to dry out the structure of your property.
At ServiceMaster Restoration by Century, we provide home and business owners in Mission Bend, TX with emergency water damage restoration services on a 24/7 basis. We employ technicians and Master Water Restorers who are all certified by the IICRC and have years of experience restoring water damaged properties. Through our services, your property will be restored in a satisfactory manner.
Experienced Water Damage Restoration Services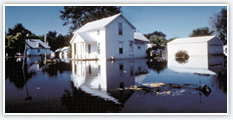 Water and moisture will spread to various areas of a property regardless of what sourced it. Mold can even start growing on the property within 24 hours of the damage.
That said, ServiceMaster Restoration by Century is available on a 24/7 basis to provide such services. We arrive at your property right away so that we can contain any damage, dry the structure, and disinfect materials to prevent mold growth. In addition, we also treat the structure by conducting repairs or installing replacements for materials that have suffered irreversible damage.
Our Experienced and Certified Services
At ServiceMaster Restoration by Century, we allow you to confirm that our professionals have IICRC certification prior to working on your property. With more than seven years of experience providing restoration for damaged building materials, our Master Water Restorers can be depended on to provide quality restoration services for your property.
We comply with HIPPA, understanding that your privacy is important. We also follow safety, health, and legal requirements to guarantee we provide you with the best possible services. Once we complete our work, we collaborate with your insurance company.
Our technicians are experienced in commercial building restoration, including the following:
Restaurants
Healthcare facilities and hospitals
Retail and corner stores
Schools and universities
Factories and warehouses
Assisted living facilities
Our professionals can also be relied upon to provide the following:
Initial inspection: We conduct a primary inspection of your property to spot and remove all dangerous contaminants. Once that's done, we estimate the scope of the damage to determine the best plan of action for the restoration.
Drying process: To start the drying process, we install restoration equipment and extract excess water right away. We find and remove all moisture particles using mapping technology and moisture meters. We also use forced circulation with air movers for further drying.
Content cleaning: Following the drying process, we restore your personal belongings of value, such as family heirlooms, documents, and antiques.
Deodorization: Through hydroxyl and ozone technology, we can eliminate lingering odors that are commonly left behind after water damage.
Structural repairs: We employ professionals that have the license and experience to provide structural repairs. Some of the materials we restore include carpeting, insulation, subflooring, and more, allowing us to conduct the restoration process in its entirety.
Emergency Response
If your property has been damaged by water, make sure to get emergency services. It doesn't matter what sourced the water damage; it is vital to address it before it spreads and causes further damage or results in mold growth. ServiceMaster Restoration by Century has Master Water Restorers and technicians who are IICRC-certified and properly trained to conduct restoration on damaged properties.
ServiceMaster Restoration by Century can be reached for professional water damage restoration services in Mission Bend, TX by calling (713) 966-6064, where we are available on a 24/7 basis.
---
Recent Reviews
Review by

A.D.
Rating

"Your attention to detail. Appreciate your customer service and promptness in getting someone out to my home."
---
Review by

B.T.C.T.
Rating

"PROFESSIONAL, COURTEOUS, QUICK, NEAT AND KEPT US INFOR. WE WERE MED AS TO ALL ASPECTS OF THE PROJECTVERY SATISFIED."
---
Review by

J.J.
Rating

"Incredibly fast response!"