Water Damage Related Info
There are many potential sources of water damage in a home or building that include natural disasters like heavy storms and floods as well as other problems from leak plumbing fixtures to burst pipes.
It is important to take action as soon as you discover water damage because the structural materials of your home can absorb water at a fast rate, allowing the damage to spread. RestorationMaster provides water damage cleanup and repair services for homes and businesses in Garland, TX. We will remove the excess water as we restore the damage and we provide free estimates for this service.
Damage Caused by Excess Water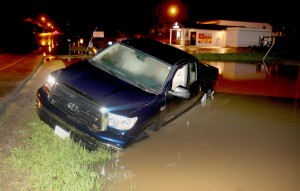 Our technicians at RestorationMaster are dedicated to providing a quick response and we normally arrive to begin the restoration within 2 to 3 hours of your initial call.
Excess water can cause permanent damage to the structural elements and building materials of your home but if the restoration process begins quickly enough, they can be completely dried out. We can help you determine which materials can be dried out and use our advanced dehumidifiers, moisture meters, and air movers to remove the excess water. Our water damage restoration methods are done according to the Advanced Structure Drying Guidelines and IICRC procedures and it usually takes 2 to 5 days to complete the process.
Water Damage Restoration
Our water damage restoration services start with an inspection of the damage using moisture meters and thermal cameras. All of our findings are recorded in our cloud based software which can be accessed anytime during the process by one of our team members to provide you with information on your loss.
The excess water is then removed with a combination of air movers and dehumidifiers. As we work through the process, we can help you determine whether certain furnishings and structural elements can be dried out or should be replaced.
Flood Mitigation – What to Do:
Secure or repair the source of the water damage. We do not provide plumbing services and the water damage restoration process cannot start until the source of the damage is repaired.
Put valuable items in a safe place where they will not be disturbed.
If the water damage covers most of your home, turn off the power. We can address the power issue as part of our restoration service.
Water Extraction – What NOT to Do:
Do not throw away the part responsible for the water damage, the insurance company may request it for the claim.
Never leave water damage to dry naturally, the damage will only spread further.
Make sure to contact RestorationMaster for water damage restoration as soon as you discover the damage in your home or business in Garland, TX. We provide free estimates work with local insurance companies to help you file your claims. We are available 24 hours a day at (972)362-0999.
---
Related Flood Cleanup Services
Frisco, TX Water Damage Restoration
Professional Water Extraction in Plano, TX
Water Damage Repair – Denton, TX