RestorationMaster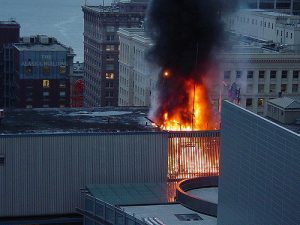 Homeowners and business owners fear fires breaking out on their property because of how much damage they can cause and how much of a threat they can be to people's lives. Fires can be caused by many sources, so they can occur at any moment. Once a fire does get going, it spreads quickly. That being said, if a fire does happen, you first need to evacuate the building. Then, call your local fire department to have the fire put out.
It's a relief when the fire has been extinguished, but the damage doesn't end there. Smoke and soot continue to spread throughout your property, causing secondary damage. Because of this, you need to get fire damage restoration and repair help immediately. Otherwise, your property will sustain further damage.
Fire Damage Restoration in Quakertown, PA
At RestorationMaster, we offer homes and businesses in Quakertown, PA complete fire damage restoration and repair services to help them out in the aftermath of a fire. Upon arriving at your property, our technicians will get to work right away. We will stabilize the structure and limit the smoke, soot, and other corrosive byproducts present. This will in turn prevent such materials from causing further damage. Afterward, we will develop a comprehensive restoration plan that will restore your property to its pre-loss condition.
Fire and Smoke Damage in Quakertown, PA
When there's a fire, there are two levels of damage. The primary damage is the harm caused by the fire's flames. The flames char building materials and furnishings and might even leave the property in an unstable condition. When the fire comes into contact with drywall, wood, and synthetic furnishings, it produces smoke, soot, residue, and other corrosive byproducts. These corrosive byproducts cause secondary damage by discoloring and etching materials, which can become permanent. Sometimes, the secondary damage is worse than the initial damage.
Fire Damage Restoration
The IICRC certified technicians we employ at RestorationMaster are capable of handling all levels of fire damage. With that said, there's no need to work with numerous contractors. We can remove smoke and soot effects by using powerful cleaning products, and we have a construction team that works to rebuild your home or business. When will we come to your property, immediately assess the damage, and give you some peace of mind by reviewing our plan for restoration with you.
Our Fire Damage Repair Services may include:
Inspecting the structural damage and, if necessary, stabilizing the structure
Identifying the fire's source
Assessing the water damage caused by extinguishing the fire
Evaluating smoke and soot-damaged items and materials
Removing important documents and other contents to keep them safe
Cleaning and restoring damaged personal belongings through our content cleaning and pack-out services
Removing charred furnishings and building materials
If necessary, conducting water mitigation
Removing smoke odors through deodorization
Cleaning and restoring damaged areas to return your home or business to its previous condition
Contact Us
Get in touch with RestorationMaster immediately if your residential or commercial property in Quakertown, PA has suffered fire damage. We will arrive at your home or business in a prompt manner, to limit the damage, and start our fire damage restoration work. We are available on a 24/7 basis for our emergency fire damage restoration services. Call us today at (267) 291-0808.
---
Related Fire Damage Restoration Services:
Fire Damage Restoration Services in Perkasie, PA
Fire Restoration and Cleanup in Lansdale, PA
Restoration from Fire Damage in Harleysville, PA
Fire Restoration in Conshohocken, PA