RestorationMaster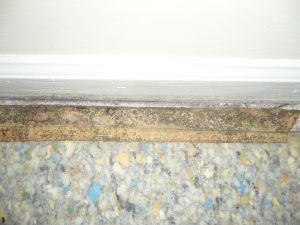 Because of the harm it presents to properties and people, mold is considered to be one of the most hazardous substances that you can encounter in your home or business. If it thrives and spreads, mold can severely damage your property's structure. It can also cause a myriad of health problems. Because mold thrives in moist environments, mold often grows in areas with a moisture source: bathrooms, kitchens, basements, crawlspaces, attics, and areas that have suffered water damage. Mold can even grow in concealed areas, causing extensive damage before being discovered.
At RestorationMaster, we offer homes and businesses in Quakertown, PA, complete mold removal and remediation services to help them out in the aftermath of a mold outbreak. We employ technicians who are properly equipped to stop and remove mold. Regardless of how big of a problem mold is in your property, our mold remediation services will leave your property free of mold with improved indoor air quality.
Problems Caused by Mold in Quakertown, PA
Because mold spores are naturally present in the air, all they need to grow is food and moisture sources. Within 48 hours of water damage, mold can begin to grow. It can also grow in areas that are often moist, such as bathrooms and kitchens.
Mold's main food source is cellulose, which is why it typically grows on wood, drywall, and other organic surfaces that contain cellulose. Any materials affected by mold can weaken and become discolored, as the fungus continues to eat at the surface. If the mold becomes a big enough problem, then your property can suffer severe structural damage.
Mold can also present several health concerns. People exposed to mold have been known to suffer from allergic reactions: coughing, breathing troubles, itchy eyes and throat, headaches, and other cold-like symptoms. Long-term mold exposure can cause asthma, respiratory infections, and other serious issues.
Mold Prevention
Prevention is the best defense against mold. The best way to prevent mold is to effectively ventilate your property and to immediately address any water damage and/or excess moisture. If you clean water within 24 hours, the chances for mold growth reduce greatly. That said, the chances for mold growth heighten if any wet building materials and furnishings remain moist for more than 24 hours. Take the time to address any and all water damage right away, and make sure you consistently check moist areas where mold growth is likely.
If you find mold in your home or business, it's best to have it removed professionally. Improper cleaning methods can worsen the problem because disturbing mold causes it to release more spores. Cleaning it yourself also increases your risk for mold-induced health problems.
ServiceMaster Mold Removal in Quakertown, PA
At RestorationMaster, we employ highly trained and properly equipped IICRC certified professionals who will remove mold from your residential or commercial property. This service is not sub-contracted to someone else. To start, we assess the mold growth and the damage it has caused. We will contain the mold to prevent it from spreading to new areas and worsening the problem. Then, our mold removal specialists continue with the service by conducting the following steps:
Find and repair the moisture source to prevent further mold growth
Treat affected surfaces up to two feet beyond the mold that's visible
Clean and sanitize affected surfaces and objects with EPA-approved cleaning products
Use a third party to test your property for mold, ensuring mold is no longer present in your home or business
Call Us Now
Call us at RestorationMaster immediately if your home or business in Quakertown, PA. Our trained, IICRC certified technicians will locate and eliminate all cases of mold, returning return your property to a safe, clean environment.
Call us 24/7 at (267) 291-0808 to seek help from our professional mold removal and remediation services.
---
Related Mold Removal Services:
Mold Removal and Abatement Services in Perkasie, PA
Mold & Mildew Remediation l Services in Lansdale, PA
Mold Testing and Removal Services in Harleysville, PA
Mold Removal and Cleanup in Conshohocken, PA