RestorationMaster
Mold is a dangerous problem to have because it can spread quickly and cause severe structural damage to your property and all affected materials. People who are frequently exposed to mold often experience health issues, such as respiratory infections or allergic reactions. Mold growth occurs most commonly in areas with excess moisture, like bathrooms, kitchens, basements, attics, and crawlspaces. Areas affected by water damage are also likely to experience mold growth.
RestorationMaster offers mold removal services to homes and businesses in the Lansdale, PA, area. Our IICRC certified  professionals use advanced equipment to eradicate mold from your property. We will locate and remove the source of mold, no matter the size and scale, and improve the indoor air quality of your home.
Damage Caused by Mold in Lansdale, PA
Mold spores are always present in the air and can form mold colonies if they encounter excess moisture and a food source. Mold can grow as quickly as 48 hours after water damage occurs and if it spreads, it can cause serious structural damage to the building. Cellulose is mold's main food source and the substance is present in common building materials like drywall and wood. If mold grows on organic surfaces like these, the materials will discolor and weaken. Mold will eat at the surface until the structure of the building is unstable.
Mold also presents a variety of health problems. These people experience symptoms of allergic reactions like coughing, headaches, and itchy eyes and throat. People who experience frequent exposure to mold may experience more serious issues like respiratory infections and asthma.
Mold Damage Removal & Remediation in Lansdale, PA
Mold Prevention in Lansdale, PA
There are several preventative measures you can take against mold. Keep standing water and excess moisture out of your home by making sure your property is well-ventilated and dry. If your home sustains water damage, address the problem right away because removing excess water within 24 hours decreases the risk of mold growth. Be sure to also address water damage that has affected building materials and furnishings because mold can grow if these materials are wet for more than 24 hours.
If your efforts to prevent mold have failed and you discover mold growth on your property, your best course of action is to have professionals remove it. If you attempt to remove the mold yourself, you risk experiencing health problems and releasing mold spores to new areas.
RestorationMaster Mold Removal Process in Lansdale, PA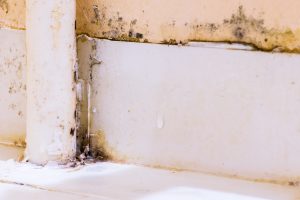 Our mold and mildew specialists at RestorationMaster are fully able to remove mold, and we do not sub-contract this service. Our professionals will assess the extent of the mold infestation and contain the affected areas to prevent additional damage. Once all mold is located and contained, we will:
Locate and restore the source of the moisture to prevent additional mold growth
Treat all surfaces and materials affected by mold
Use cleaning products approved by the EPA to sanitize and clean the affected objects and surfaces
Have a third party inspect your property and ensure it is mold-free
Contact Us
If you discover mold growth in your home or building in Lansdale, PA, contact RestorationMaster at (267) 291-0808 for our professional mold remediation services. Our trained technicians will work diligently to remove the mold growth and return your home to its original condition.
---
Related Mold Removal Services:
Mold Removal and Remediation Services in Perkasie, PA
Mold Abatement and Remediation Services in Quakertown, PA
Mold Testing and Abatement in Harleysville, PA
Mold Removal in Conshohocken, PA