RestorationMaster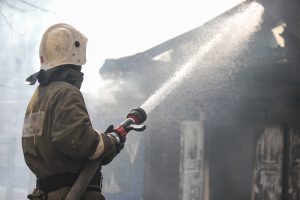 Fires cause such serious damage to buildings and create great risk to the people involved. Fires can start in a variety of different ways and spread quickly. This is why fires are so dangerous. It is important to first evacuate the building and ensure the safety of the residents before you call the fire department. However, the damage often continues even after the flames are put out. Soot, smoke, and other corrosive byproducts linger and spread throughout the building. If not addressed quickly, the property damage can become permanent.
At RestorationMaster, we provide fire damage cleanup and repair services to fire damaged homes and buildings in the Lansdale, PA, area. Our professionals will contain the spread of corrosive byproducts to prevent further damage immediately upon arrival. We will also stabilize the structural damage and create a restoration plan to restore your property to its original state.
Problems Caused by Fire and Smoke Damage in Lansdale, PA
Two different stages of damage occur when a fire breaks out in the home. The first stage is when the flames destroy furnishings and building materials so severely that the building is unstable. Corrosive byproducts like smoke, soot, and residue form when synthetic furnishings like wood and drywall burn.
The second stage of damage is when these corrosive byproducts spread after the flames are put out and affect materials and objects. These materials will become discolored and experienced etching, both of which can become permanent if not treated. In certain cases, damage by corrosive byproducts is more severe than the damage by the flames.
Fire Damage Repair and Restoration in Lansdale, PA
Our IICRC certified professionals at RestorationMaster are able to handle fire damage of any kind. We use advanced cleaning products to remove soot and smoke and our construction crew can rebuilding homes and buildings that are heavily damaged by fire. We will assess the damage immediately and create and implement a restoration plan to return your property to its original condition.
Our fire damage repair technicians will:
Inspect the structural damage
Stabilize the building
Identify the source of the fire
Assess possible water damage after the flames are put out
Evaluate materials and objects affected by soot and smoke
Remove personal belongings and valuables to a safe location
Provide content cleaning and pack-out services
Remove destroyed furnishings and building materials
Deodorize the property to remove lingering smoke odors
Restore and clean all areas affected by the fire
Contact Us 24/7
Call our technicians at RestorationMaster to clean and restore your fire-damaged home or business in Lansdale, PA. We will quickly arrive on the scene and work diligently to restore your property to its original state with our emergency restoration services. We are available 24/7 at (267) 291-0808 for emergency fire damage cleanup and repair calls.
---
Related Fire Damage Restoration Services:
Fire Damage Cleanup and Restoration Services in Perkasie, PA
Fire Damage Repair and Restoration Services in Quakertown, PA
Fire and Smoke Damage Restoration in Harleysville, PA
Professional Fire Restoration in Conshohocken, PA