ServiceMaster by Restoration Contractors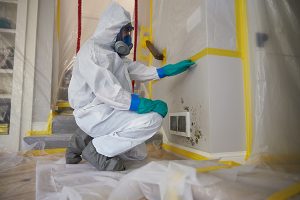 The presence of mold growth in a home or building is as dangerous as it is damaging.  Mold growth is usually caused by wet or humid conditions and it can seriously damage the affected surfaces and materials if given enough time.  In extreme cases, this damage can even threaten the structural integrity of the home or building.  Health issues are the other major concern with mold as exposure to mold spores has been shown to cause allergic reactions and even respiratory infections or other breathing issues.
ServiceMaster by Restoration Contractors will effectively remove mold growth from homes and businesses in Marion, IN with our mold remediation services.  Our technicians use state-of-the-art equipment and technology to accurately test for mold and ensure it is completely removed.
Mold Growth on the Property
There is always a natural concentration of mold spores in the air and these spores become mold colonies in environments that provide a food and moisture source.  The most common food source for mold is cellulose which is an organic material found in wood, wallpaper, drywall, insulation, and other building materials.
Once mold forms on these surfaces, it will literally eat through them, causing them to become discolored and structurally damaged.  Mold colonies also disperse their spores which spreads the mold growth and increases the risk of negative health reactions.
Many of the most common mold-related health issues such as coughing, nasal congestion, skin irritation, asthma, and respiratory infections are caused by inhaling the spores.
Contact ServiceMaster by Restoration Contractors at (260) 918-9662 for professional mold remediation.
Mold Remediation in Marion, IN
Removing mold growth immediately from your home or building will limit the damage to your property and lower your risk of experiencing health issues.
The technicians of ServiceMaster by Restoration Contractors will contain the mold growth right away and remove it using the best mold remediation technology and methods available.  Our mold remediation services include testing by a nationally recognized testing agency to find all hidden mold and ensure that the remediation is done effectively.
You can expect the following from our mold remediation services:
A thorough assessment of the extent of the mold growth
Report of our assessment to your insurance provider
Containment of the damaged areas to prevent the mold from spreading
Forming of a mold remediation plan per our assessment
Total removal of all mold growth including hidden mold
Free Estimate Mold Removal in Marion, IN
Few problems in your home can affect your health and your property like mold, which makes its presence a serious issue. That is why you have to contact a mold remediation company before mold causes any more damages.
Our technicians at ServiceMaster by Restoration Contractors are fully trained and prepared to handle any level of mold contamination in homes and commercial settings in Marion, IN.  Give us a call at (260) 918-9662 for professional mold remediation. 
---
Related Mold Remediation Services: