ServiceMaster by Restoration Contractors
While natural disasters not common, they happen more often than we might think. But even worse, we don't think they will happen to us. But when they do, the mental and emotional stress involved can leave many business and homeowners not knowing where to turn or who to call. But it is in these moments that time is the most crucial factor towards preventing additional damage.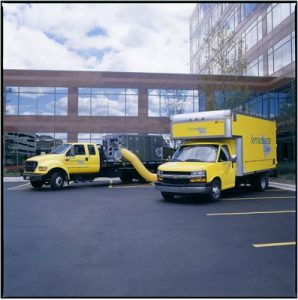 Whether you have suffered through a tornado, flood, or fire, ServiceMaster by Restoration Contractors is available 24/7 to provide emergency disaster restoration services in the Marion, IN area. While this may be your first and hopefully only disaster, our technicians work with critically damaged structures everyday. From removing smoke and soot byproducts to extracting floodwaters, you can count on us to be there for you when you need it most.
Water Damage Restoration
Whether or not the water damage was caused by nature, too much of it can destroy a property structure, starting with the porous materials. Despite the fact that it is the most common of all disasters, the water and excess moisture will consume all structural elements, furnishings, and personal contents until treatment can occur. Walls, floors, and ceilings will become warped and discolored, furnishings can develop mold growth within the fabric, and personal items can also become ruined if they come into contact with water.
But the technicians of ServiceMaster by Restoration Contractors in Marion, IN restore commercial and residential property structures from all causes, including storms, sump pump failures, appliance malfunctions and leaks, sewage backups, frozen pipes, and more. As soon as we arrive, we will immediately begin extracting all standing water into our truck-mounted system, followed by setting up advanced drying equipment to dry out the rest of the affected areas.
All of the following is included within our water damage restoration services:
24/7 Availability and Emergency Response: Our technicians are available at all hours of the day to respond to emergency property damage, arriving within 2 hours of your first call to begin the restoration process.
Water Extraction: Our technicians will immediately begin extracting the standing water into our truck-mounted system.
Drying Process: Advanced drying equipment and dehumidifiers will be strategically set up and repositioned to allow for efficient and effective drying.
Reconstruction: Necessary demolition, removal of debris and soiled porous materials, and reinstallation of new materials.
Cleaning and Sanitizing: After all non-porous surfaces have been dried out, they will be cleaned and sanitized to fully restore clean and healthy living conditions.
Working with Insurance: Our technicians will work with your insurance company during the claims process to allow additional peace of mind.
Fire and Smoke Damage Restoration
While fires aren't as common as water damage, they are one of the most destructive forms of natural disasters. But even after the flames have been extinguished, the property is still not safe from additional damage. The smoke and soot byproducts created in the fire are still spreading throughout the building materials, covering them in a black, oily residue. But as long as they receive emergency treatment, they can be restored to their original conditions.
ServiceMaster by Restoration Contractors completely understands how stressful, if not traumatic, property fires can be, especially if it was left in a critical damage. But that's why we are also available 24/7 to arrive within 2 hours of the first call with all cleaning products and equipment needed to start the restoration process. From conducting the necessary demolition and repairs to deodorizing the home of that awful smoke odor, our technicians can handle all aspects of the restoration process. Within a timely manner, we can restore the home or building to its original condition so you can return with peace of mind.
You can expect all of the following within our fire and smoke damage restoration services:
24/7 Availability and Emergency Response: Our technicians are available 24/7 and will arrive within 2 hours of your initial call with all necessary products and equipment.
Initial Inspection: ServiceMaster by Restoration Contractors will conduct an initial inspection to identify the scope of the damage, developing a strategized plan for restoration.
Repairs and Restoration: We will immediately begin conducting the repairs and restoration process, removing smoke and soot residue and reinstalling new building materials.
Deodorization: The structure will be thoroughly deodorized of that horrible smoke odor, restoring healthy breathing conditions.
Working with Insurance: We will coordinate with your insurance company to ensure a seamless claims process.
Final Inspection: We will do a final walk-through with you to ensure your satisfaction.
Restoration from Other Disasters 
While water and fire damage are among the most common forms of natural disasters, others include tornadoes, thunderstorms, snowstorms, and mold infestations. ServiceMaster by Restoration Contractors can also provide peace of mind during these stressful situations. Check out the rest of emergency services we can offer in an emergency situation:
Restoration dry cleaning for textiles and clothes
Emergency board ups
Temporary climate control and power
Don't hesitate to call ServiceMaster by Restoration Contractors at (260) 918-9662 as soon as you discover the damage from a natural disaster on your property in Marion, IN.
---
Related Emergency Disaster Restoration Services:
Emergency restoration in Fort Wayne, IN
Emergency restoration in Auburn, IN