RestorationMaster
Our professionals are trained and experienced to provide all of the following:
Water Damage Restoration
Flood Damage Cleanup
Fire and Smoke Damage Restoration
Mold Removal
Content Cleaning and Pack-Outs
Storm and Wind Damage Restoration
Document Restoration
Electronics Restoration
Odor Removal
Interior and Exterior Construction
Especially with old pipes or malfunctioning appliances, water damage is almost imminent. As soon as it starts, it can spread quickly throughout flooring, walls, ceilings, walls, and personal contents. If not treated right away, they will eventually come ruined and develop mold growth that will produce a musty smell. This is why it is crucial to call RestorationMaster if you live or work in the Huntington, IN area. Our technicians are both trained and experienced to arrive within 2 hours of your first call and start the restoration process right away. From extracting standing water to replacing soiled porous materials, our professionals will restore safe and healthy conditions that will have the place back up and running in no time.
There are no words that can describe the feeling of a destroyed home caused by fire. But what is even more terrifying is that the majority of the damage occurs after the flames have been extinguished. As the affected materials are soaked from the fire hose and soaked in smoke and soot byproducts, treatment must occur as soon as possible. RestorationMaster is also available 24/7 in the Huntington, IN area to restore both commercial and residential property structures to their original conditions. Using commercial cleaning products to remove smoke and soot residue, our professionals can restore surfaces that were thought to be ruined. But in order to restore and prevent as much damage as possible, calling us right away after finding the damage is crucial. Don't hesitate to give us a call so we can get everyone and everything back on track.
Mold is a constant threat to appear in homes and buildings because there is a natural concentration of mold spores in the air looking for the right conditions to form.  Moisture is the biggest trigger of mold growth and mold colonies find food sources in organic building materials like wood and drywall.  Mold growth is not only a threat to cause extensive property damage, but it can also affect your health as those exposed to mold spores may experience allergic reactions and even infections with extended exposure.  RestorationMaster provides mold remediation services to remove mold and repair or replace the damaged surfaces for homes and businesses in Huntington, IN.  Our technicians will uncover all mold growth in your home or building and remove it effectively with our advanced cleaning equipment and methods.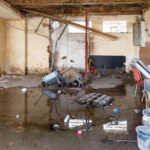 The definition of a natural disaster is very broad. It can be a flood, fire, tornado, and even mold infestation. Any severe damage that is caused by mother nature can be concluded as a natural disaster. But RestorationMaster provides emergency disaster restoration services for any of these occurrences in the Huntington, IN area. From removing smoke and soot products to conducting necessary demolitions and repairs, you can count on our professionals to have the job done efficiently and effectively. We are available 24/7 and will arrive within 2 hours of the initial call to get started. We will also work with your insurance company if you have chosen to file a claim to ensure a seamless process.
Whether the damage was caused by a natural disaster or other source, properties can be left in  devastating conditions. But when home and business owners first notice their property in this situation, it can be difficult to know where to turn. But RestorationMaster is available 24/7 in the Huntington, IN area to provide emergency reconstruction services. Employing a full staff of construction contractors, you can expect your home or building to provide a safe and clean environment for you and your loved ones or staff in no time. We can also restore building materials from a variety of damages, including water, fire, smoke, and mold. But considering the damage will continue to spread until treatment is made, it's crucial to contact us right away.
When your personal items have been affected by a severe disaster, immediate action must be taken before they become ruined. While some items are replaceable, others can take a financial or emotional toll when found destroyed. That's why RestorationMaster is available 24/7 in the Huntington, IN area to respond to these emergencies. Within our content cleaning and pack-out services, you can expect that the items, including important documents, antiques, heirlooms, knick-knacks, and more, will be restored to their original condition. We can also conduct this process at our facility if your home or building will also need significant repair work. Finally, we will work with your insurance company to provide additional peace of mind and ensure a smooth claims process.
Contact Us
For any of the disaster restoration services listed above in the Huntington, IN area, don't hesitate to give us a call at (260) 306-8828. We are available 24/7 to help you with all kinds of emergencies.
---
Related Services