ServiceMaster by Restoration Contractors
Even with updated, new appliances and pipes, it's impossible to completely prevent water damage in a home or building. Due to the number of causes, it is actually the most common form of natural disaster, spreading to other materials in a short amount of time. Such destruction will require immediate attention, cutting off the source of the damage while extracting the water with professional equipment.
ServiceMaster by Restoration Contractors is available 24/7 in the Marion, IN area to provide emergency water damage restoration and flood extraction services for both residential and commercial properties. Whether the home is threatened by mold growth due to excess humidity or you have a pool of water in your basement, our technicians are available at all times of the day to restore safe and clean conditions within the home or building.
Types of Water Damage

Whether you have a leaking pipe or sump pump failure, the problem will become worse over time. Porous materials are especially prone to damage, including paint, concrete, drywall, and upholstery, acting as a sponge to absorb the water and moisture.
As the damage spreads, the property is then threatened by mold growth from the presence of excess moisture and bacteria. Within 48 hours, you can expect to have musty smells in addition to permanent damage to the building structure.
Water Damage Restoration in Marion, IN

While the thought of losing a part of your home to water damage can be daunting, ServiceMaster by Restoration Contractors' emergency water damage restoration services will prevent this from happening.
As long as immediate action is taken after finding the damage, our water technicians will arrive in a timely manner with professional equipment to extract the water and dry out the affected surfaces.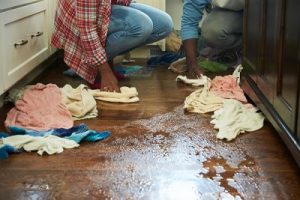 All soiled materials will also be removed while commercial dehumidifiers are installed to remove the moisture from the air as it evaporates. We will then install replacement building materials, fully returning the affected area to its original condition.
We can also coordinate with your insurance adjuster during the claims process to allow you to focus on other matters.
Our technicians are trained and experienced to provide all of the following within our water damage cleanup services:
Emergency response and initial inspection
Water Extraction with advanced drying equipment
Restoration/removal of affected surfaces
Removal and restoration of water-damaged carpet and upholstery
Mold removal (if necessary)
Contents restoration (if necessary)
Installment of new building materials
Application of anti-microbials
Final inspection
Working with insurance (if necessary)
Water Damage Cleanup – What to Do:
Call ServiceMaster by Restoration Contractors for emergency water restoration.
Blot dry and/or mop up as much water as you can.
Wipe down furniture clean towel.
Hang up upholstery on a hanger to dry.
Remove all contents from the floor.
Place important documents in high, dry, and safe location.
Prop up sofa cushions, pillows, and furniture skirts.
Place a piece of aluminum foil between the floor and all furniture legs to prevent the water from traveling through the wood.
Water Mitigation – What NOT to Do:
Do not enter a room with severe structural or electrical damage.
Do not use a regular vacuum to remove standing water.
Do not remove any carpeting that is tacked down to the floor.
Do not touch or clean any visible mold.
Do not use any water-damaged appliances until cleared by our technicians.
Free Estimate Water Restoration in Marion, IN
At any time that you experience significant water damage on your property, don't hesitate to take action right away. Because the property is at risk for mold growth, calling for professional help is essential and can also save both time and money during the restoration process.
ServiceMaster by Restoration Contractors is available 24/7 at (260) 918-9662 in the Marion, IN area to provide emergency water restoration services.
---
Related Water Restoration Services:
Water damage restoration in Auburn, IN
Water damage restoration in Fort Wayne, IN