Does Homeowner's Insurance Cover Water Damage from Rain?
Unfortunately, there are a number of ways that water damage can cause severe destruction within a home. These sources can include sewer backups, burst and leaking pipes, water leaks, flooding, drain overflows, and rainstorms. As soon as you have discovered that there is a significant amount of damage on your property, don't hesitate to call a professional water damage restoration company. Whether or not the costs are covered in your homeowners' insurance policy, the damage will continue to spread until the treatment is made. But here are some of the most common questions about homeowner's insurance, rain, and water damage.
Is Water Damage from Rain Covered Under Homeowner's Insurance?
In most cases, yes! A standard homeowner's insurance policy will cover water damage from rain, as long as the storm had "opened up" a hole in the roof, causing the water to leak in. On the other hand, any rotten shingles or other holes in the structure that were present before the storm will usually be denied, because they are considered "preventable." The insurance adjuster will most likely tell you that the hole could have been fixed beforehand to prevent the water damage.
What Happens When Rain Causes a Flood?
While most leaks are typically covered under standard homeowners' insurance policies, if the leak had created a flood in which there is standing water, the disaster would not be covered. Insurance agencies specifically do not include flooding under their standard policies, due to the severity of the damage and high costs involved.
For insurance to cover flood damage, the property owner would need to have flood insurance.
Does Homeowner's Insurance Cover Other Damages from Rainstorms?
Depending on the severity of rainstorms, many other types of damages can occur to a home, including storm, wind, and hail damage. While all policies differ with various companies, homeowner's insurance typically covers the damages caused by these natural disasters. Ultimately, natural disasters can come in many different forms, causing damages completely unforeseen by property owners.
Hail Damage. During severe storms, if hail is of a certain density, it can break windows, cause leaks, and even make dents in vehicles.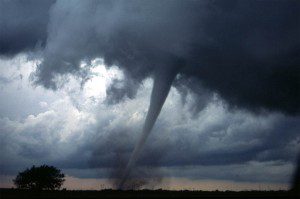 Tornado/Wind Damage. Wind gusts of over 50 mph have the power to rip off siding and roof shingles, topple over trees, and blow rocks, sticks, and other debris around. In some cases, these occurrences have left properties in critical conditions.
Lightning Damage. While severe storms are also associated with strong winds, lightning can destroy roofs, chimneys, and cars if they strike them directly. You will want to talk to your insurance company right away to see if you are eligible for this type of coverage.
Is General Wear and Tear Covered?
While homeowners' insurance can cover various water and rain damages, they are meant for emergency situations. This means that they will not cover the damage to a home if a building material already needed to be replaced. This includes everyday wear and tear, which will be identified by your adjuster if they find that the damaged building material is old, rotten or due for replacement before the storm had occurred.
Common disasters that are not usually covered under homeowners' insurance policies include: clogged gutters and drains, old, rotten roof shingles, and rusty pipes. Be sure to have these repaired or restored when they are needed to avoid both a physical and financial disaster.
Which Water Damage Restoration Companies Does Insurance Pay For?
While water and other damages caused by rainstorms can leave your home in a critical condition, it is essential to choose a water damage restoration company whose service costs are covered by your homeowner's insurance policy. This is one of the primary questions to ask any provider during an emergency situation before signing the waiver to do the work.
You may want to consider contacting your local ServiceMaster. This company not only works with your insurance provider but uses advanced equipment and products to return all building materials to their original conditions from the storm. They also provide a wide variety of other restoration services, including fire damage restoration, flood cleanup, mold removal, and more. No matter the severity or extent of the damage their technicians have years of experience and training to have the property restored in a timely manner.