The immediate damage caused by a fire is obvious, but the effects of the byproducts created by the fire such as smoke and soot are not as obvious until long after the fire is out.  When a fire occurs, the heat causes chemical reactions with the burned materials that create smoke, soot, and residue that is toxic and corrosive.
These elements will spread through a property after the fire is out and settle on various objects and materials, causing serious and even permanent damage without quick cleaning.  Sometimes there doesn't have to be a fire for smoke and soot to cause damage in your home as fireplaces, candles, and cooking can also create these byproducts.
Rainbow International Restoration of South & West Suburbs provides smoke and odor removal services in Hickory Hills, IL and throughout Cook County to clean up the effects of smoke and soot and remove smoke odors.  We have the cleaning products and equipment necessary to salvage all types of objects and building materials damaged by smoke and soot.  Our technicians have each completed a proper background check so you can trust them to provide effective restoration services in your home.
Damage Caused by Smoke and Soot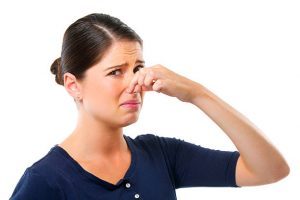 Smoke and soot commonly cause more extensive damage than the fire itself because it spreads to areas untouched by the original fire.  The corrosive nature of these elements causes damage to a wide range of materials, including discoloration and etching.  If the affected materials are not cleaned within 72 hours of the damage, the damage will more than likely become permanent.
Our technicians are ready to clean and restore just about any building materials and objects affected by smoke and soot.  We use advanced chemical cleaners that can remove the effects of these byproducts safely and restore damaged objects to their original condition.  It is very important for the cleaning to take place immediately after a fire to reduce the risk of permanent damage.
Smoke Odor Removal
Soot and residue are not the only damaging factors that come with smoke, there is also the issue of the smoke odor.  Smoke odors permeate building materials and objects quite easily which causes the odor to linger.  It is very difficult to get rid of smoke odors with DIY methods because they typically become absorbed in the affected materials.
At Rainbow International Restoration of South & West Suburbs, we can extract smoke odors from affected materials and air spaces using advanced deodorization techniques.  After the odor is removed, we will ensure that your property remains odor free.
When dealing with the effects of smoke and soot, it may be difficult to decide if it is worth involving your insurance.  Our technicians can help you decide whether it is worth filing an insurance claim based on our assessment of the damage.  If you decide to file a claim to cover the damage, we can bill your insurance provider directly to pay for the claim.
You should never hesitate to deal with the damage caused by smoke or soot within your property.  Whether the smoke and soot are the result of a fire, cooking accident, or some other event, make sure you call Rainbow International Restoration of South & West Suburbs right away for smoke and odor removal services.
We use proven methods to remove soot damage and smoke odors and we also have a price match guarantee in which we will match any offer from a professional that works within the IICRC standard of care.  Give us a call at (708) 571-2550 for smoke and soot damage cleanup in Hickory Hills, IL.
---
Recent Reviews
Review by

Joanne Deangelo
Rating

"I just wanted to say thank you to the staff of Rainbow Restoration for all of their help and assistance when my home flooded."
---
Review by

Carlos Semanate
Rating

"Rainbow is the best water and fire damage restoration company. I have seen the awesome work that they do and that they always go the extra mile for the customers.Rainbow Intl always #1"
---
Review by

Lisa Perez
Rating

"Very pleased. They arrived when they said they would and did what they said they would do. Thank you guys for cleaning everything up. I would definitely use you again!"