Many people don't think a violent crime, accident, or other traumatic event would ever happen on their own property, but it's possible. These situations, particularly ones that regard a serious injury or death, can be troubling to come across. If blood and other biohazard materials are involved, then it can be especially dangerous.
The first action you should take if you encounter this type of scene is to call emergency responders. Afterwards, you must call a professional cleaning company to handle the restoration and cleanup, as EMTs and law enforcement aren't licensed to conduct this type of cleanup.
Rainbow International Restoration of South & West Suburbs provides biohazard and trauma scene cleaning services in Hickory Hills, IL to assist with cleanup for situations that involve biohazard materials.
Our technicians are not only experienced and certified to conduct cleanup of such biohazards, but they have also passed a thorough background check. As such, you can trust our technicians to work on your property.
We understand that these situations can be difficult for the affected individuals, which is why we are always respectful with our work.
Effective Trauma Scene Cleaning in Cook County, IL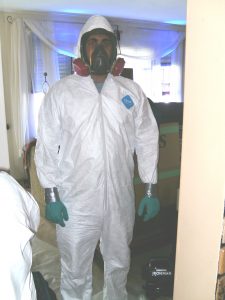 When we arrive to your property, we come in unmarked vehicles so we can work discreetly to restore the scene. Our technicians remove all biohazard materials at the scene, such as tissues and blood, and then disinfect and clean the area. This ensures that there won't be any trace of biohazard materials that can spread infection or disease.
In the event that a crime has been committed, our technicians are prepared to work with crime scene investigators, working in a way that doesn't jeopardize the ongoing investigation.
Each situation varies, so the amount of cleaning that needs to be done is unique to each scenario.
Biohazard Cleanup Regulations
No matter what the biohazard material is — whether it's blood, other bodily fluids, sewage, or something else — they must be cleaned and disposed of according to CDC, EPA, and OSHA regulations.
At Rainbow International Restoration of South & West Suburbs, our technicians have all been trained to conduct cleanup and disposal of biohazard materials in a safe manner that abides by local and federal regulations. Additionally, our technicians have undergone extensive training to earn bloodborne pathogen certification. All of the biohazard materials that we remove are safely and properly disposed of at a licensed medical waste facility.
The following are included within our biohazard cleaning services:
Decontamination to prevent negative health effects
Crime scenes that have biohazard materials: blood and other bodily fluids, fingerprint dust, tear gas, and more
Death scenes: accidental deaths, homicides, natural deaths, and suicides
Bodily fluids and tissue cleanup
Drug/meth lab cleanup
Equipment and vehicles cleanup
Prison cell cleanup
Blood and airborne pathogens
Homes affected by hoarding
When a traumatic event happens, contacting your insurance company is likely the last thing on your mind. We can help and advise you on whether to involve your insurance company based on the situation. In the event your insurance company is involved, we bill them directly. We can also price-match any estimate that you get from an IICRC-certified service provider.
If a serious accident or violent crime involving a death or injury occurs on your property, do your best to remain calm and contact the emergency responders. After getting in touch with emergency responders, give Rainbow International Restoration of South & West Suburbs a call at (708) 571-2550 for our biohazard and trauma scene cleaning services in Hickory Hills, IL. We are available 24/7 and will come to your property to clean, disinfect, and restore the scene.
---
Recent Reviews
Review by

Joanne Deangelo
Rating

"I just wanted to say thank you to the staff of Rainbow Restoration for all of their help and assistance when my home flooded."
---
Review by

Carlos Semanate
Rating

"Rainbow is the best water and fire damage restoration company. I have seen the awesome work that they do and that they always go the extra mile for the customers.Rainbow Intl always #1"
---
Review by

Lisa Perez
Rating

"Very pleased. They arrived when they said they would and did what they said they would do. Thank you guys for cleaning everything up. I would definitely use you again!"