How to Prevent Mold on Garage Walls
Mold usually appears in dark environments that are moist or damp, however it can grow anywhere indoors and outdoors, including in the garage. There are many ways that mold can develop on your garage doors. It may be due to open windows or doors or even the HVAC system, however mold can also grow due to dampness caused by a flood or an improperly sealed garage. If the garage is a heavily used space, such as attached garages that are used as the primary entrance to the home, there is an even bigger probability that mold will develop. Mold spores will appear quickly in the right conditions so be conscious of any garbage or spills in the garage as they can cause mold. There are ways that you can get rid of mold from the garage and keep it from forming again.
Why does mold form on garage doors?
Garage doors are an easy target for mold to form. They usually have a small amount of insulation, so when it is cold out, there is condensation that forms, especially if you have a heated garage. The moisture from condensation, along with dust and other debris that can be a food source for mold, can cause mold to form on the doors. As mentioned, poor sealing of the doors lets water in, creating the conditions for mold growth. If this is the case with your garage, you should have the seals around the doors replaced by a professional to keep the moisture out.
What types of molds can form in a garage?
All the moisture that forms in a garage will allow for mold to grow. Here are some types of molds you may encounter in a garage. Always make sure to have protective equipment on when dealing with mold. You should never handle mold without the proper equipment.
This type of mold is very common and it's easy to spot due to its color, but also by its shape. It usually grows in circles and it is sticky.
This type of mold is also very common and there are many classifications it may belong to. It is green in color, and it may look like algae.
This type of mold is common, it is white in color and may have a hairy appearance. It is not as harmful as other mold.
If you've encountered a growth in your garage but you are unsure if it's mold, make sure to call the professionals to have it tested and let you know if it is mold growth. Mold growth should always be treated by professionals to ensure it is fully removed so that it does not harm your health.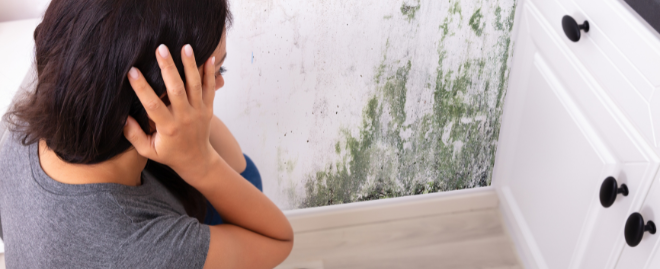 How to Prevent Mold in your Garage?
It is important to keep mold out of your garage and especially the garage doors. There are some things you can do as a homeowner to prevent mold in your garage from forming. Here are a few:
Inspect your garage regularly:
Always make sure that you are on the lookout for any roof damage, pipe damage, drywall damage, or any other damage that may become a food source for mold.
Keep the items you have in the garage on shelves as opposed to the floor. Keeping items on the floor may cause spills which can become a food source for mold.
Make a new garage mold-free:
If you are building your own garage, make sure you use mold-resistant materials.
Keep plants away from the garage:
Having lots of plants around the outside of the garage can cause cracks where moisture can enter the garage and cause mold.
Always make sure that your garage is well ventilated and dry. This will keep moisture away which helps prevent mold from forming.
Your garage should have a drainage system that will keep moisture away from it. This means that any moisture that comes in on your car or seeps into the garage, including rain or snow, should be drained quickly and efficiently. This will keep your garage dry and reduce the chances of getting mold.
Even if you take all the precautions we mentioned, you may still face mold in your garage. If you encounter mold, you can react right away by doing the following:
Make sure to remove any water that may be on the surface and dry all areas
Use a dehumidifier to remove all moisture
Ventilate the area
If you do have plants on the garage walls, make sure to use mildew-resistant paint on the concrete
Do not use cardboard boxes for storing, instead use plastic totes
If you are building your own garage or remodeling it, use materials that are mildew and mold resistant
Professional Mold Remediation
If you've done everything in your power to prevent or get rid of mold in your garage and it still persists, it is time to call the professionals for complete mold remediation services to fully remove the mold growth. These professionals will remove mold from anywhere in your home and restore the damage it caused.