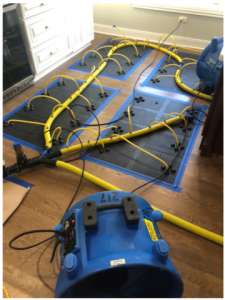 Water damage can be caused by a wide range of factors from a major flood to a trickle from a leaking pipe.  Most building materials within a home or building are absorbent which allows excess water to spread through them, leading to serious damage and mold growth.  Building materials that absorb water may experience stains, warping, and buckling that can lead to severe structural damage.
Materials and objects affected by excess moisture are also at a high risk for mold growth.  If there is a problem with excess water on your property, it is best to react to the damage quickly and begin the restoration process.
Rainbow International Restoration of South & West Suburbs provides water damage restoration services for homes and businesses in Hickory Hills, IL.  Our technicians are ready to deal with all levels of water damage including indoor flooding using advanced water extraction and dehumidification equipment.  We can effectively remove excess water and moisture, dry the affected areas, and restore the resulting damage.
Each of our technicians at Rainbow International Restoration of South & West Suburbs has passed a background check and received the proper training to provide effective water damage restoration.
Water Damage Restoration
The damage caused by excess water happens in stages and if you don't react immediately, the damage will quickly become much worse.  The building materials that absorb water will initially experience discoloration and warping but as the materials weaken, the risk of structural damage will increase.  The damage will also spread further throughout your property as the water spreads through porous building materials.  It is very important to call Rainbow International Restoration of South & West Suburbs as soon as possible to limit the spread of the damage.
Water Damage Removal
Our technicians will immediately work to contain the spread of the water and assess the damage to form a remediation plan.  We will dry the affected objects and materials with our proven Rapid Structural Drying method in which dehumidification equipment and air movers are used to extract and evaporate the moisture.  This drying process can completely remove moisture from the affected materials and help prevent serious damage.  After the remediation, we will test your property with moisture meters to make sure that all excess water has been discovered and removed.
In many cases of water damage, it may be difficult to tell if you should file an insurance claim for the damage.  Our technicians can help you decide if filing a claim is in your best interest after an inspection of the damage.  If you do decide to file an insurance claim, we can follow up with your insurance provider and bill them for the cost of the claim with our direct billing services.
If you experience water damage on your property, you can limit the damage with these tips:
Contact Rainbow International Restoration of South & West Suburbs as soon as possible for emergency water damage restoration services.
Shut off the main water valve to stop more water from coming in.
Shut off the circuit breakers before handling any electronic devices.
Put aluminum foil under furniture legs to protect your carpet.
Elevate curtains and drapes.
Lift up hanging upholstery fabric.
Remove anything from your carpet that can cause a stain.
---
If you do discover serious water damage in your home, make sure you avoid the following actions:
Do not remove water with a regular vacuum because it can damage your vacuum and put you at risk of an electric shock.
Do not use newspapers to soak up water because the ink will transfer and stain the surface underneath.
Try to avoid walking on wet carpeting or it may sustain more damage.
---
Rainbow International Restoration offers comprehensive loss documentation on fire and water losses with 3D technology.
We can capture any loss in its entirety, including its exact dimensions. Not only does this serve the purpose of thoroughly documenting the condition of the structure, but it also captures the condition of people's personal belongings and a business's inventory. We can easily share the job link with the customer, their adjuster, and the contractor that will be performing the build back. This type of documentation reduces disputes over the severity of the loss and improves efficiency all the way around.
When it comes to insurance claims, it is critical that we have an agreed scope of work with the adjuster. Providing meticulous documentation of the damage helps move the claims process along. If your home or business has suffered a fire or water loss, Rainbow is your beginning to end resource.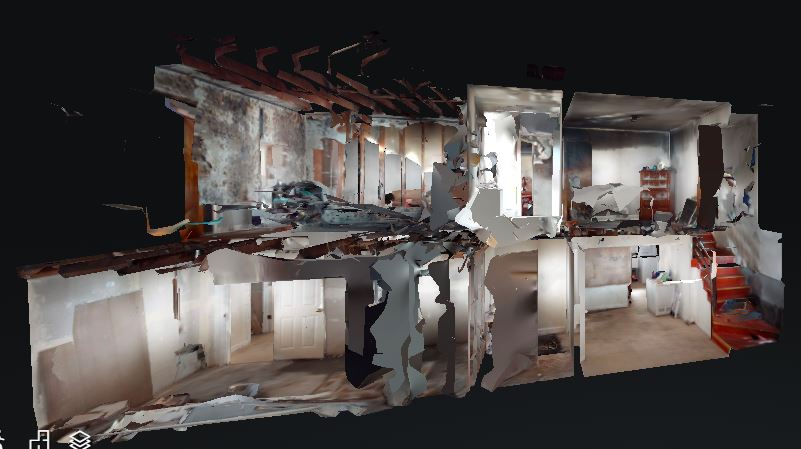 Make sure you call Rainbow International Restoration of South & West Suburbs immediately if you are dealing with water damage in your home or business in Hickory Hills, IL.  Our technicians will arrive quickly to remove excess water and dry and repair the affected areas.
We will also work to keep your price low with our price match guarantee. We will also help keep out of pocket costs low with our price match guarantee that applies to non-covered claims.  We will match or beat estimates from other professionals that adhere to the IICRC's standard of care.
  Give us a call 24 hours a day at (708) 571-2550 for a quote.
---
Related Water Damage Removal Services:
Water Damage Repair Specialists in Oak Lawn, IL
Water Removal Services in Orland Park, IL
Water Extraction and Cleanup in Downers Grove, IL
Water Damage Restoration in Tinley Park, IL 
Water Damage Removal in Berwyn, IL
Water Damage Restoration in Cicero, IL
---
Recent Reviews
Review by

Joanne Deangelo
Rating

"I just wanted to say thank you to the staff of Rainbow Restoration for all of their help and assistance when my home flooded."
---
Review by

Carlos Semanate
Rating

"Rainbow is the best water and fire damage restoration company. I have seen the awesome work that they do and that they always go the extra mile for the customers.Rainbow Intl always #1"
---
Review by

Lisa Perez
Rating

"Very pleased. They arrived when they said they would and did what they said they would do. Thank you guys for cleaning everything up. I would definitely use you again!"