(708) 571-2550
Fire is a powerful and destructive force and even a small one can leave considerable damage in its wake. Fire doesn't just leave smoke and soot everywhere, but also compromises the structural integrity of the property. If you've recently faced fire damage in Bridgeview, IL, just give us at Hydroforce Restoration and Cleaning a call. We'll arrive at your location in 2 to 4 hours to assess the damage and plan the repairs.
How Do We Carry out Our Fire Damage Restoration Service?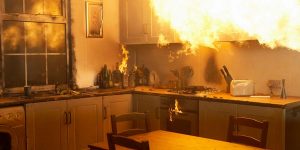 We understand that our clients want their property back in good shape as quickly as possible. Unfortunately, hasty restorations and repairs don't last long and can place the property owners at risk. We have a careful, methodical approach to fire damage restoration that allows us to repair the property effectively and quickly. Here's a brief description of our services:
Quick Response – Fire continues to cause damage even after it's extinguished. Smoke and soot can react with synthetic materials and other items on your property and damage them permanently. We arrive to your location quickly to prevent this and immediately start the clean-up and restoration process.
Salvaging Items – Our next step is to remove all moveable items and furniture from your property to save them from further damage. We can restore and repair this furniture on-site if your property is steady and relatively undamaged. If the building has sustained too much fire damage, we'll move these items to our facility and carry out the restoration work in a safe environment.
Accessing Structural Damage – Fire can cause a considerable amount of structural damage, though this damage may not be apparent at first glance. Our trained experts will comb through your entire property and mark areas that have been damaged in the fire. They're very thorough with their inspections and make it a point to double check. Once they've determined the extent of the damage, they'll plan and work on restoration and repairs.
We use the latest technology and methods to address extensive fire damage and restore your property to the pre-fire damaged condition. We will also help you with insurance claims and any related paperwork.
Don't hesitate to contact us at Hydroforce Restoration and Cleaning if your property in Bridgeview, IL has sustained fire damage. Our fire damage restoration services are thorough and effective so you can trust us to restore your property to its former glory. Just give us a call at (708) 571-2550 for emergency response.
---
Recent Reviews
Review by Carlos Casanova
Disaster Restoration
Rating 5

"This company goes the extra mile in helping customers in difficult circumstances. When my home basement had flooding problems, Hydroforce responded quickly and worked with me on financial constraints. I certainly recommend this company for honest and accurate work done well."
---
Review by Daniel Joseph Izaguirre
Disaster Restoration
Rating 5

"Great company to do buisness with i recommmend hydroforce"
---
Review by Jessica Carroll
Disaster Restoration
Rating 5

"Joe responded so quickly and provide a quick turnaround time with our water damage. His team was great, provided great service, and explained everything that needed to be done. Highly recommended!"
All Reviews