Hydroforce Restoration and Cleaning
In our daily lives, some of us may be unfortunate enough to experience a situation that requires biohazard cleanup, which can be unpredictable and occur anywhere.  Biohazard materials are biological substances such as blood and bodily fluids that have the potential to spread infections to people if the proper precautions are not taken. Hydroforce Restoration and Cleaning provides biohazard cleanup services to Bridgeview, IL to safely remove biohazards and restore the scene to its natural state.
Dangers of Biohazards
A professional should be contacted to handle all biohazard cleanup needs because biohazard materials may contain dangerous viruses or toxins that require specialized handling.  If someone who has not been specially trained tries to clean up biohazard material, they could be putting themselves and the people around them at great risk for cross contamination.
But if these materials aren't cleaned up properly and quickly, they will spread throughout the home or building, permanently damaging the surrounding building materials and furnishings.
Trauma Cleanup in Bridgeview, IL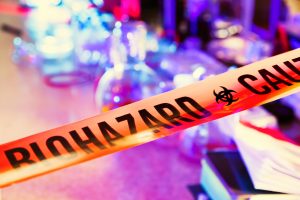 The technicians at Hydroforce Restoration and Cleaning are specially trained to properly and safely clean up and remove any biohazard materials. Our hospital-grade cleaning products are EPA-approved to fully remove up to 99.9% of all bacteria, viruses and pathogens to restore safe and health conditions within your property.
If the event involved a crime, we will work with law enforcement to avoid compromising any investigation. We will also work discreetly to avoid interrupting any family events. Finally, we will work with your insurance adjuster during the claims process to provide additional peace of mind.
Our biohazard cleanup services cover the following situations:
Blood and bodily fluid cleanup
Injury cleanup
Hoarding cleanup
After death cleanup
Vehicle blood
Car accidents
Our biohazard cleanup process includes disinfection, deodorization, and sanitization of the scene as well as the safe transport and disposal of biohazard materials through a licensed and compliant transport company.
Contact Us
If you need emergency biohazard cleanup services in the Bridgeview, IL area, Hydroforce Restoration and Cleaning is available 24 hours a day, 7 days a week at (708) 571-2550.
---
Related Services:
Biohazard Cleanup Oak Brook, IL
Biohazard Cleaning Darien, IL
Biohazard and Trauma Cleanup Oak Lawn, IL
Biohazard Cleanup Services Orland Park, IL
Biohazard Cleanup Contractors Downer's Grove, IL
Biohazard Cleaning Professionals Lombard, IL
Biohazard Cleanup Services Oak Lawn, IL
Biohazard and Trauma Cleaning Hickory Hills, IL
Biohazard and Trauma Cleanup Berwyn, IL
Biohazard and Trauma Cleaning Services Elmhurst, IL
Trauma Cleanup Burr Ridge, IL
Trauma Scene Cleanup Burbank, IL
Biohazard and Trauma Cleanup Oak Park, IL
---
Recent Reviews
Review by Carlos Casanova
Disaster Restoration
Rating 5

"This company goes the extra mile in helping customers in difficult circumstances. When my home basement had flooding problems, Hydroforce responded quickly and worked with me on financial constraints. I certainly recommend this company for honest and accurate work done well."
---
Review by Daniel Joseph Izaguirre
Disaster Restoration
Rating 5

"Great company to do buisness with i recommmend hydroforce"
---
Review by Jessica Carroll
Disaster Restoration
Rating 5

"Joe responded so quickly and provide a quick turnaround time with our water damage. His team was great, provided great service, and explained everything that needed to be done. Highly recommended!"
All Reviews