(708) 571-2550
Mold and mildew thrive in moisture-rich, dark, and cool environments. If the moisture is allowed to linger, you'll have to deal with mold growth in that space. At Hydroforce Restoration and Cleaning, we take steps to removal mold during our water damage restoration services, but sometimes they emerge despite our best efforts. As a part of our mold remediation services, our expert technicians will remove all traces of mold from your home or business in Bridgeview, IL and make sure it doesn't come back.
Facts About Mold Growth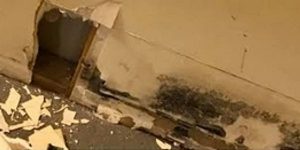 Mold is a very aggressive fungus and will grow and thrive at the slightest encouragement. It spreads quickly and can compromise the air quality of your home. People who are sensitive to allergies and illnesses are particularly susceptible to it. Here are some facts you should know about this fungus:
Mold can grow within 48 hours so you can't allow excessive moisture or water damage to linger for longer than a day.
Floods, broken pipes, slow and small leaks, or high levels of humidity are all common causes of mold growth because they create the right environment for it.
The cellulose present in drywall and wood is a food source for this fungus and that's why mold growth is common on such surfaces.
Humidity above 50% can encourage mold growth too.
How Do We Do Mold Remediation?
We encourage our clients to leave mold remediation to professionals because DIY remediation can place your health at risk and spread mold particles in your home's environment. Here's how we handle mold growth:
Assessment – Our expert technicians will comb through your property to identify the sources of mold. They're very thorough and always double check, because they don't want to miss a spot and let mold linger.
Isolation – Once we've found the mold in your property, we isolate it to stop it from spreading further. The cleaning process will release the mold in the air so containment is necessary to stop it from spreading.
Cleaning – We use sophisticated cleaning equipment and techniques to remove all traces of mold from your property and apply preventive measures to ensure it doesn't come back.
If you have a problem with mold in Bridgeview, IL, don't hesitate to contact us at Hydroforce Restoration and Cleaning. Our expert technicians will carry out thorough mold remediation and ensure your home environment is healthy once again. All you need to do is give us a call at (708) 571-2550 for professional mold removal.
---
Recent Reviews
Review by Carlos Casanova
Disaster Restoration
Rating 5

"This company goes the extra mile in helping customers in difficult circumstances. When my home basement had flooding problems, Hydroforce responded quickly and worked with me on financial constraints. I certainly recommend this company for honest and accurate work done well."
---
Review by Daniel Joseph Izaguirre
Disaster Restoration
Rating 5

"Great company to do buisness with i recommmend hydroforce"
---
Review by Jessica Carroll
Disaster Restoration
Rating 5

"Joe responded so quickly and provide a quick turnaround time with our water damage. His team was great, provided great service, and explained everything that needed to be done. Highly recommended!"
All Reviews