How to Control Indoor Mold Growth This Spring
With the arrival of sunshine and warm weather, there are a lot of things to enjoy during the spring season. People can take in the nice weather and spend time outdoors sprucing up their gardens and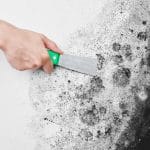 planting colorful flowers to brighten up their yards. But there's more to spring than just nicer weather. Spring is also a time of the year that is often used to tidy up your home, business, or building. One of the things you should be wary of while doing your spring cleaning is indoor mold. This is especially the case considering that the temperatures are naturally warmer in the spring, increasing the chance for mold growth.
Although it's a natural substance, indoor mold is problematic and can not only damage your property but hinder the health of anyone exposed to it. Knowing this, it's essential that you take the necessary steps to prevent indoor mold growth this spring. Continue reading to learn more about how mold grows, why it's harmful, and how to control mold growth.
How Does Mold Grow?
Mold thrives in environments with moisture and even more so if it's humid. So, if mold spores, which are naturally present in the air, encounter excess moisture and have an organic food source, then mold growth is likely to occur. Among the materials that mold uses as a food source are wood, drywall, insulation, and other common building materials. Because of this, mold can easily grow and quickly spread in a home, business, or building.
What Makes Mold Growth Harmful?
When mold grows on surfaces like drywall, it is using the material as a food source. The mold eats away at the material, ruining the surface. With enough damage, the mold can jeopardize the structural integrity of your property.
In addition to property damage, when mold is present in your home or business, the indoor air quality is affected. Exposure to mold can also result in various health problems like allergies and respiratory concerns. Prolonged exposure can lead to even more severe health issues.
How Do I Control Mold Growth Indoors?
Control Moisture Levels
With moisture being a key ingredient for mold growth, it is important to address any moisture-related concerns immediately. Otherwise, it will encourage mold growth. Mold can begin to grow within 24 hours, so clean spills and fix leaks in a prompt manner.
It is also recommended that you use a dehumidifier in your property to help maintain an indoor humidity level that's between 30 and 50 percent. This is especially helpful during more humid times of the year or if you reside in a humid area.
In places like bathrooms, kitchens, and laundry rooms, you need to make sure these rooms have proper ventilation so that the moisture can escape instead of accumulating inside. Additionally, when you take baths and showers, be sure to run the exhaust fan while you bathe or shower and for at least 20 minutes afterward. This will ensure that all moisture has been removed.
Use Mold-Resistant Products
One way you can prevent mold growth in your home or business is to use mold-resistant products. If you want or need to paint walls and ceilings, you can use mold-resistant paint. If you are looking to replace or install drywall, consider using mold-resistant drywall instead of the traditional drywall containing paper — which mold uses as food.
Conduct Indoor Maintenance
Have your plumbing and HVAC systems well maintained and, if necessary, inspected on a regular basis to ensure they remain in proper working condition and are not having any problems. Both your plumbing and HVAC systems can easily produce excess water and cause moisture problems if not maintained. For example, small plumbing leaks can easily create a pool of standing water, and drip pans for air conditioning units can accumulate moisture.
Perform Outdoor Maintenance
Even outside moisture problems can cause mold issues indoors, which is why it's important that you also conduct regular maintenance outside your home or other building as well. Pay attention to your gutters and roofing.
If your gutters aren't cleaned regularly, then water cannot properly flow through them and be directed away from your property. Instead, the water will stay near the building and may potentially damage the foundation or leak into the basement. When water damage occurs, mold growth is likely to follow. That said, clean out your gutters so that they send water away, and add downspout extensions if water isn't being directed far enough.
If there are any missing or broken shingles on your roof, get those replaced right away before they can cause a problem and become ineffective as a protective barrier.
Spring cleaning is an activity that people generally do not look forward to, but spring mold can make such a task even less enjoyable. So be sure to take the necessary steps to prevent mold from growing indoors this spring.
In the event that you encounter mold in your home or business, get professional mold removal help right away. With professional mold remediation services, well-trained, experienced technicians will work to eliminate all cases of mold within your home or business. They have the proper protective gear and effective cleaning equipment and products to safely remove mold, prevent it from returning, and repair any damage that has been done.