Mold can cause a variety of problems when it takes hold in residential and commercial buildings. It can cause property damage and poor indoor air quality, and lead to significant health complications in those exposed.
At Hydroforce Cleaning and Restoration, we offer mold remediation services to property owners in Orland Park, IL, to tackle these issues. Through our services, we will fully remove mold from your property, and restore a safe and healthy environment.
Our technicians at Hydroforce Cleaning and Restoration have each passed a background check and they are highly trained to deal with mold situations. Once the mold removal process is complete, we will have a third party test your property to ensure that the mold spore count has been reduced. We guarantee that your property will pass this clearance testing after we finish the remediation.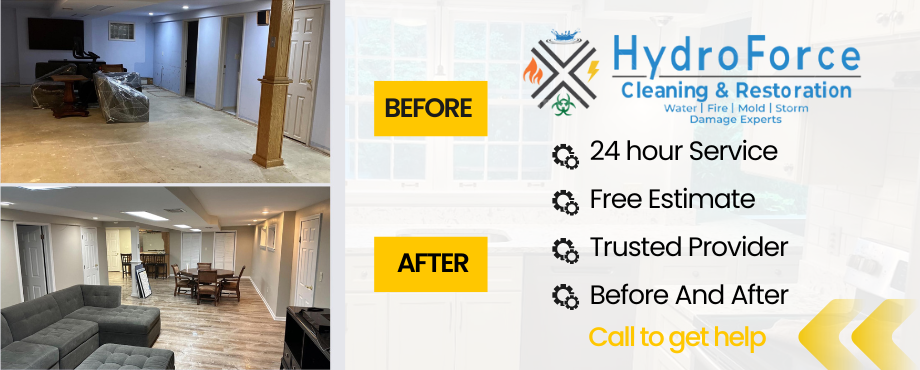 Mold Damage Restoration
Your property is at risk of developing mold growth whenever excess moisture is present. This makes it very important to monitor the moisture level in your home and keep it under control. When there is water damage on your property, mold is most likely to grow. Once mold takes hold, it can spread to other areas of your property, and cause discoloration, deterioration, and similar damage. This can lead to structural damage in severe cases. If you do find mold growth in your home, you must not clean it yourself and instead call for assistance from an IICRC certified professional such as Hydroforce Cleaning and Restoration.
As the mold eats away at your building and personal items, its spores will travel through the air to cause additional problems. Not only can these spores take hold and grow in other areas, but they can lead to adverse health effects, as well. Allergic reactions, skin irritation, breathing troubles, asthma attacks, respiratory infections, and more are well-documented results of exposure to mold.  Anyone can be affected by mold exposure, but the young and elderly are especially vulnerable due to weaker immune systems, and people with chronic allergies may experience worse symptoms.
Mold Remediation Cleaning
When you contact our representatives, we will send highly-trained technicians as quickly as possible to assess the levels of mold growth on your property and begin containment procedures. Our services end with a final clearance test performed by a third party to ensure that the mold level has been reduced. If you file an insurance claim for the mold damage, we provide direct billing to your insurance carrier to cover the claim.
For more on what to expect from our mold removal services, please see below:
We perform an initial inspection in order to locate all areas affected by mold as well as the moisture source causing the mold to grow. We will suggest ways to correct the moisture issue and form a remediation plan once we have discovered to full extent of the mold growth.
Mold will disperse its spores if it is disturbed in any way. We will contain the affected areas to prevent mold spores from spreading to other areas of the home or building.
Removing the mold spores from the air is as important as removing the mold itself. We remove mold spores from the air with HEPA filters to help purify the air.
We dispose of any surfaces or materials that are too deeply damaged to be remediated. Simply covering up mold will only lead to future contaminations which is why these materials must be removed. We begin and end removal with thorough HEPA vacuuming to remove the mold spores from the air.
We sanitize nonporous materials and surfaces with antimicrobial sealants and cleaners (we can treat your HVAC system, as well)
We provide drying services and discuss moisture management strategies that you can implement to prevent future mold growth
We have a third-party specialist come in to perform a clearance test once we have finished the remediation to make sure the spore count has been brought down to a safe level. We guarantee that your property will pass this clearance test.
Contact Us for Mold Remediation in Orland Park, IL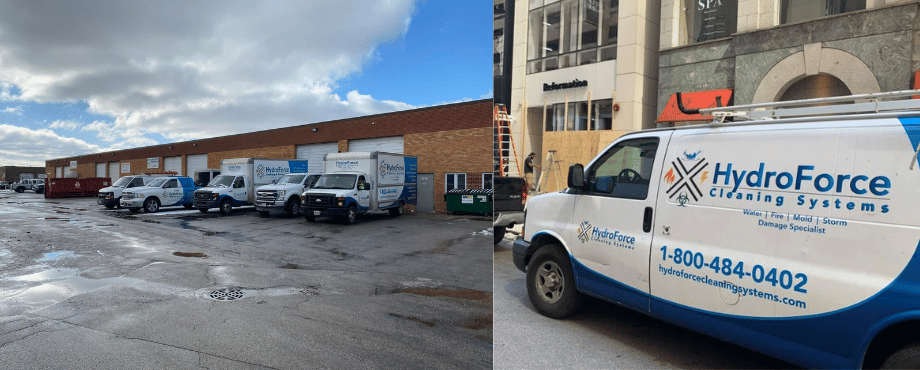 Time is of the essence whenever mold appears on your property. Through our mold remediation services, we will respond rapidly and create a step by step remediation plan to return your building to a safe and sanitary condition. We will also help keep out of pocket costs low with our price match guarantee that applies to non-covered claims.  We will match or beat estimates from other professionals that adhere to the IICRC's standard of care.
 To leverage our mold removal expertise, contact our Hydroforce Cleaning and Restoration representatives at (630) 528-2865. We are proud to assist property owners in Orland Park, IL.
---
Related Mold Damage Repair Services:
Mold Removal from Hydroforce Cleaning and Restoration in Oak Lawn, IL
Mold Damage Restoration Services in Hickory Hills, IL
Mold Remediation Services Bridgeview, IL
---
Mold Removal and Deodorization Tips and Information
Multiple factors can contribute to mold development on garage doors, ranging from open windows and doors to the operation of the HVAC system. Additionally, mold can arise from excessive moisture due to events like floods or poor garage sealing. Especially in high-traffic spaces like attached garages used as primary home entrances, the likelihood of mold formation increases. Mold spores can swiftly manifest under suitable conditions such as spills or accumulation of debris. Try implementing the below measures to eradicate existing mold and take proactive steps to hinder its formation in the future.
Inspect your garage regularly
Organize your garage
Make a new garage mold-free
Keep plants away from the garage
Keep humidity away
Have proper drainage
You might find yourself wading through ankle-deep water within the confines of your home. As the water recedes, it leaves behind a trail of water damage and the looming possibility of mold growth. Flooding ranks high among the most dreaded scenarios for any homeowner. The aftermath of flooding, especially from sewer backups, carries the potential to exact a heavy toll – from the loss of cherished possessions to even the jeopardy of one's residence. Faced with the aftermath of such an event, the question arises: How does one go about tackling this daunting mess? Below is a series of steps to guide you through the cleanup process and help you regain control in the wake of a flood.
File a Damage Claim with your insurance provider.
Save your expenditure receipts
Document all flood damage
Call a flood cleanup professional
Mold treatment and prevention tips:
Remove porous materials
Bleach or add baking soda to the affected area
Call a professional
Ensure proper air ventilation
Keep your home updated.
Awareness about indoor mold is particularly vital due to the changing climatic conditions during spring. As temperatures naturally climb, they create an environment conducive to mold growth. By taking the below proactive measures, you can ensure that your spring cleaning efforts yield a refreshed and mold-free environment.
Control Moisture Levels
Use Mold-Resistant Products
Conduct Indoor Maintenance
Perform Outdoor Maintenance
---
Frequently Asked Questions about Mold Removal
Can mold ever be fully removed?
In many cases, it is difficult to remove mold completely to 100% because mold lives inside the structure and wall materials and also porous permanent damaged elements.
How long should you stay out of the house after mold remediation?
It will be based on the recommendation given by your mold remediation technicians. After final testing and reinspection, they will let you know the day you can return back to your home. It typically takes a day after the removal process is completely finished.
How long does it take to remediate mold in a house?
The time period for mold remediation varies depending on the extension of the damages and the size of the job. On average, it will take about one day to one week forprofessional  mold removal.
Why and How People Choose a Professional Contractor After a Home Disaster?
---
Recent Reviews
Review by Carlos Casanova
Disaster Restoration
Rating 5

"This company goes the extra mile in helping customers in difficult circumstances. When my home basement had flooding problems, Hydroforce responded quickly and worked with me on financial constraints. I certainly recommend this company for honest and accurate work done well."
---
Review by Daniel Joseph Izaguirre
Disaster Restoration
Rating 5

"Great company to do buisness with i recommmend hydroforce"
---
Review by Jessica Carroll
Disaster Restoration
Rating 5

"Joe responded so quickly and provide a quick turnaround time with our water damage. His team was great, provided great service, and explained everything that needed to be done. Highly recommended!"
All Reviews