Residential and commercial property owners in Orland Park, IL, should be mindful of what to do in the case of a fire. There are many ways in which they can occur, and the risks to your property
and belongings are substantial. At Hydroforce Cleaning and Restoration, we provide fire damage restoration services to address all aspects of fires (including harmful smoke and soot) and return your property to its original condition. Our technicians are highly trained to handle any case of fire damage, and they have all gone through a background check for your safety and protection. We can assist you on any scale and offer 24-hour availability to respond to fire damage.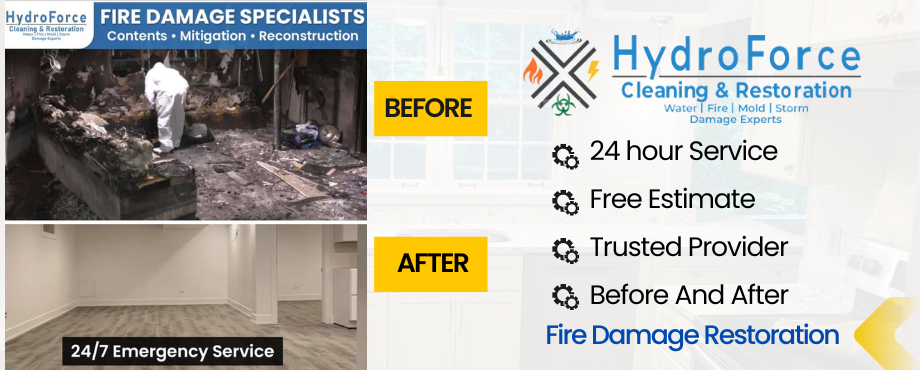 Fire Damage
Fires can occur with little to no warning and spread rapidly to cause severe levels of damage. Sometimes the events that lead to fires are preventable, and sometimes they are not. Several of the leading causes of fires that we respond to include:
Electrical issues
Cooking accidents
Incidents with candles or fireplaces
Excess lint in dryer vents
While the list goes on, the results are largely the same: your building and its contents are at risk of suffering permanent damage. Flames themselves can consume a number of materials, and then proceed to release corrosive smoke and soot that can damage other areas of your property. By responding with swift and effective cleaning and restoration procedures, we significantly reduce the extent of the damage. We are also prepared to remove the damaged content from the property for effective cleaning and restoration.
Fire Damage Restoration
At Hydroforce Cleaning and Restoration, we can begin our work as soon as fire department personnel extinguish the fire. We will first stabilize damaged structural elements of your property, and then begin our sanitization and restoration process. We have you covered from initial pre-cleaning through the repair of significantly damaged areas.
If you aren't sure if you should file an insurance claim for the damage, our technicians can advise you on the best way to handle this after we have fully inspected the damage.  If you do decide to file a claim, we provide direct billing and will send the bill to your insurance carrier to cover the cost of the claim.
For more information on fire damage restoration, watch RestorationMaster video:
The following are specific actions that you can take to assist in the restoration process:
Contact our representatives as soon as possible in order to limit the extent of the damage
Open windows to circulate smoke and fumes
Move children and pets to a safe, smoke-free environment
Dispose of any contaminated food
Take pictures of the damage done to your property and belongings. We will take an inventory of your damaged belongings and provide you with multiple copies for your records and insurance claim.
Conversely, there are specific actions that you should not take following a fire:
Do not attempt to clean porous surfaces (such as wood, drywall, or furniture)
Do not keep exposed food (even canned items)
Do not keep or take medications that have possibly been exposed
Do not lay down newspaper because the ink can transfer and causes stains on other surfaces
Do not use any upholstered furniture
Do not use any electrical devices or appliances until they have been professionally inspected
Hydroforce Cleaning and Restoration offers comprehensive loss documentation on fire and water losses with 3D technology.
We can capture any loss in its entirety, including its exact dimensions. Not only does this serve the purpose of thoroughly documenting the condition of the structure, but it also captures the condition of people's personal belongings and a business's inventory. We can easily share the job link with the customer, their adjuster, and the contractor that will be performing the build back. This type of documentation reduces disputes over the severity of the loss and improves efficiency all the way around.
When it comes to insurance claims, it is critical that we have an agreed scope of work with the adjuster. Providing meticulous documentation of the damage helps move the claims process along. If your home or business has suffered a fire or water loss, Hydroforce Cleaning and Restoration is your beginning to end resource.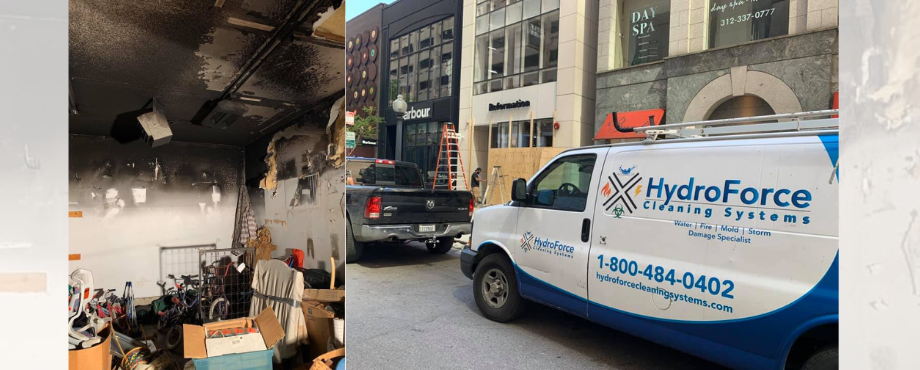 Contact Us for Fire Damage Restoration in Orland Park, IL
Responding to a fire can be as stressful as it is chaotic. At Hydroforce Cleaning and Restoration, we do everything possible to give you greater peace of mind through our fire damage restoration services. We will also help keep out of pocket costs low with our price match guarantee that applies to non-covered claims. We will match or beat estimates from other professionals that adhere to the IICRC's standard of care.
To learn more, or to leverage our 24/7 emergency-response services, give us a call at (630) 528-2865. We proudly service those in need in Orland Park, IL.
---
Related Fire Damage Cleanup Services:
Smoke Damage Repair in Oak Lawn, IL
Soot and Smoke Removal in Hickory Hills, IL
Fire Mitigation in Downers Grove, IL
Fire Damage Restoration in Tinley Park, IL 
Fire Damage Removal in Berwyn, IL
Fire Damage Restoration in Cicero, IL 
Content Cleaning and Restoration in Orland Park, IL
---
Fire and Smoke Damage Restoration Tips and Information
While candles contribute a soothing ambiance to the home, it's important to acknowledge their potential hazards. According to the National Fire Protection Association, approximately 10,000 residential fires annually stem from candle-related incidents. To strike a balance between enjoying the aesthetic charm of an open flame and ensuring safety, adhere to these fire safety recommendations. This way, you can relish the beauty of candles while mitigating the risk of a potentially dangerous candle fire.
Although it's impossible to foresee natural disasters or accidents, there are proactive measures you can take to safeguard your home from their impacts. The notable aspect of preventive initiatives is that they don't necessarily require substantial financial investments or exceed your budget. You have the capability to ensure your home's safety through cost-effective methods that can yield long-term savings. By adopting these approaches, you not only secure your dwelling but also establish readiness for various potential disasters that might arise.
Having a readily accessible notebook can prove invaluable in the aftermath of a fire incident. Jot down essential details like the claim number, contact information for the claims adjustor, insurance representatives, and any pertinent data. This preparatory step becomes particularly handy considering the multitude of phone calls that typically transpire in the initial days following a fire. By having this information close at hand, you streamline the process. Additionally, it's advisable to secure copies of various reports. This includes the fire department's report, as well as any reports from law enforcement or the hospital, if relevant. These documents hold significance in the claims process. Given that insurance companies require paperwork, expediting this step accelerates the claim's processing time. Timely completion of necessary forms ensures a smoother resolution, facilitating a faster path to recuperating from the fire's aftermath.
---
Recent Reviews
Review by Carlos Casanova
Disaster Restoration
Rating 5

"This company goes the extra mile in helping customers in difficult circumstances. When my home basement had flooding problems, Hydroforce responded quickly and worked with me on financial constraints. I certainly recommend this company for honest and accurate work done well."
---
Review by Daniel Joseph Izaguirre
Disaster Restoration
Rating 5

"Great company to do buisness with i recommmend hydroforce"
---
Review by Jessica Carroll
Disaster Restoration
Rating 5

"Joe responded so quickly and provide a quick turnaround time with our water damage. His team was great, provided great service, and explained everything that needed to be done. Highly recommended!"
All Reviews