RestorationMaster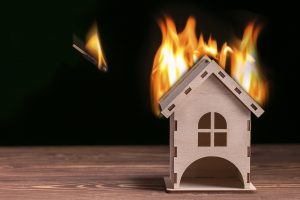 Fires are among the most feared disasters because they cause extensive damage very quickly and put lives at risk.  There are so many potential causes of fires in homes and buildings, such as electrical issues, cooking accidents, and candles, which is why they can happen at any time. The first thing you need to do if a fire occurs on your property is evacuate the building to ensure everyone's safety and call the fire department to extinguish the fire.  Having the fire put out may be a relief, but the damage will continue as smoke, soot, and corrosive byproducts linger and cause additional damage.  You must begin the restoration immediately to reduce this secondary damage.
At RestorationMaster, we provide complete fire and smoke damage restoration services to clean up and repair homes and businesses affected by fire in Berwyn, IL.  Our technicians are trained and equipped to restore homes and commercial buildings that have sustained extensive fire and smoke damage.  We will begin the cleaning and restoration process immediately to repair structural damage and limit the secondary damage caused by smoke and soot.
Our technicians at RestorationMaster have passed an extensive background check so you can trust them to provide excellent services while respecting your property.
Fire Damage Cleanup
You can help limit the damage caused by a fire by calling RestorationMaster immediately after the fire department leaves your property.  The burning of synthetic materials creates acidic and corrosive byproducts such as smoke and soot that will continue to spread throughout the property after the fire is out.  The affected materials will experience discoloration and corrosion and if certain surfaces and objects are not quickly restored, this damage will become permanent.
Our technicians will help limit the damage by stabilizing structural damage and starting the cleaning process for materials affected by smoke and soot.  The advanced cleaning products that we use are effective for removing smoke and soot damage and restoring a range of household materials.  We will get your home or building back to its pre-fire condition in a timely manner no matter the extent of the damage.
When dealing with extensive property damage, you may be unsure of whether you should get your insurance involved.  Our technicians will do a thorough assessment of the damage right away to help you decide if it is worth involving your insurance company.  If the damage is extensive, we will help you file your claim and directly bill your insurance provider to cover the cost of the restoration.
Fire Damage Cleanup in Berwyn, IL
For emergency fire damage restoration services in the Berwyn, IL area, contact RestorationMaster at (888) 915-7197.
Fire Damage Restoration
You can reduce the amount of damage to your property after a fire by following these tips:
Call RestorationMaster right away after the fire is put out.
Open windows to air out the property if the temperature is above 60 degrees.
If you have children or pets, have them stay with a friend or family member until the home is restored.
Throw away all food in your refrigerator and thoroughly clean it out if the power is out.
Take pictures of the damage to your property for your insurance company. We will also create an inventory of your damaged items to share with you and your insurance provider.
You should NOT do any of the following after a fire as these actions can make the damage worse:
Clean wood, drywall, furniture and other porous surfaces because improper cleaning will make the damage worse.
Sit on upholstered furniture.
Keep any food item that may have been exposed to the fire or smoke.
Keep medications that may have been exposed to the fire and smoke.
Use newspapers on the floor or furniture because the ink will transfer to these surfaces.
Use electrical devices or appliances until they are deemed safe by a professional.
The best way to reduce the amount of damage to your home or building after a fire is to call RestorationMaster for fire damage restoration. Our technicians will arrive quickly to start the restoration process and limit the structural damage and spread of corrosive byproducts. We will match or beat estimates from other professionals that adhere to the IICRC's standard of care.
We are available 24 hours a day at (888) 915-7197 to respond to fire damage emergencies in Berwyn, IL.
---
Related Smoke Damage Restoration Services:
Fire Mitigation Services in Downers Grove, IL
Fire Damage Restoration in Tinley Park, IL 
Fire Restoration Services Burr Ridge, IL
Fire Mitigation Oak Brook, IL
Fire Damage Restoration Services Oak Park, IL
Fire Damage Cleanup Elmhurst, IL
Fire Damage Cleanup Services Lombard, IL