RestorationMaster
There is always a risk for fires to occur within every home and building, as they can be caused by candles, electrical problems, cooking, and other hazards. After a fire starts, it will spread quickly causing chemical combustion to all building materials and items in its path.
In the event of a fire, don't hesitate to evacuate everyone and call the fire department to extinguish the flames. But even after the flames are out, the remaining materials still face the risk of damage. Corrosive byproducts produced by the fire will spread smoke and soot throughout the property, causing etching and tarnishing. This is why emergency fire restoration services are needed immediately after putting out the fire.
RestorationMaster is available in Elmhurst, IL to provide fire damage restoration services to fully restore affected homes and buildings. Our IICRC-certified technicians can handle properties of all sizes, providing everything from structural repairs to smoke and soot removal. Just be sure to call us immediately to prevent the spread of damage and limit downtime spent during the restoration process.
Each of our technicians has passed a detailed background check and is licensed and experienced to return your property to its previous condition. We also use professional products and equipment to safely restore household surfaces.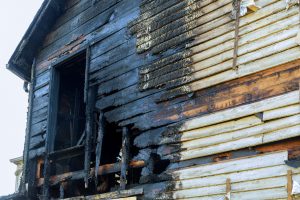 Fire Damage Restoration
As it's important to know that fire damage will continue to spread long after the flames are out as the corrosive byproducts that include smoke and soot still linger in the property. This is why it's important to call for emergency services.
As soon as it lands on the remaining surfaces, smoke and soot will cause permanent damage through etching and tarnishing. To limit the spread of these byproducts, professional cleaning agents and equipment must be used to clean the affected areas.
As soon as RestorationMaster arrives, we will prevent the smoke and soot from spreading as well as stabilize the property structure. A detailed restoration plan is then developed to quickly restore each damaged surface and item. Our technicians use perfected methods that guarantee efficient and effective cleaning as well as detailed strategies to rebuild your property.
It can be difficult to determine whether or not to file an insurance claim after a fire, but we can help you with this decision after completing an initial assessment of the damage. If the restoration estimate is higher than your deductible, we will bill the cost directly to your insurance company.
Fire Damage Restoration – Do the following:
Start the restoration process right away by calling RestorationMaster
If the temperature outside is below 60 degrees, air out the smoke and fumes by opening the windows
Move your children and pets to a family member or friend's home as the lingering smoke and soot create a dangerous environment.
Throw away all contaminated food items that were exposed during the fire.
Document the damage by taking pictures and videos of your property. RestorationMaster will also use 3D technology to document the damage and provide you and your insurance adjuster with a link to the files.
Prevent additional fire damage by avoiding the following:
Do not try to clean porous materials with household cleaning agents, including wood, drywall, or furnishings as doing so will only worsen the damage.
Do not sit on damaged furnishings.
Do not save any food items exposed during the fire, smoke, or soot.
Do not use newspapers to cover damaged areas as the ink can cause staining.
Do not use any appliances or electronics until they have been approved by one of our technicians.
Detailed Loss Documentation with 3D Technology
It can be difficult to accurately document the damage in the aftermath of the fire due to the nature of the damage. But doing so is imperative as it helps to pay for the damage to affected materials and items. RestorationMaster can provide accurate documentation of the damage using 3D technology. Our findings can also be shared to settle and prevent disputes, ensuring an efficient restoration process.
It's important for us to come to an agreement with your insurance company before conducting the restoration work. Our 3D technology allows for us to come to an agreement much faster to start the work.
If the damage to your property is not covered by your insurance company, RestorationMaster provides a price match guarantee to keep your out of pocket expenses low. This means that we can meet or beat the cost of other restoration professionals who also conduct work in accordance with the IICRC.
Contact Us
RestorationMaster is available at (708) 571-2550 in Elmhurst, IL and the surrounding areas to provide emergency fire damage restoration services.
---
Related Services:
Fire Damage Restoration Burbank, IL
Fire Restoration Burr Ridge, IL
Fire Damage Repair Bridgeview, IL
Fire Damage Restoration Services Oak Brook, IL
Fire Restoration Services Oak Park, IL
Fire Damage Restoration Services Cicero, IL
Fire Restoration Contractors Downer's Grove, IL
Fire Damage Repair Services Hickory Hills, IL
Fire Damage Restoration Contractors Orland Park, IL
Fire Mitigation Tinley Park, IL
Fire Damage Mitigation Berwyn, IL
Fire Damage Restoration Services Oak Lawn, IL
Fire Damage Restoration in Darien, IL