RestorationMaster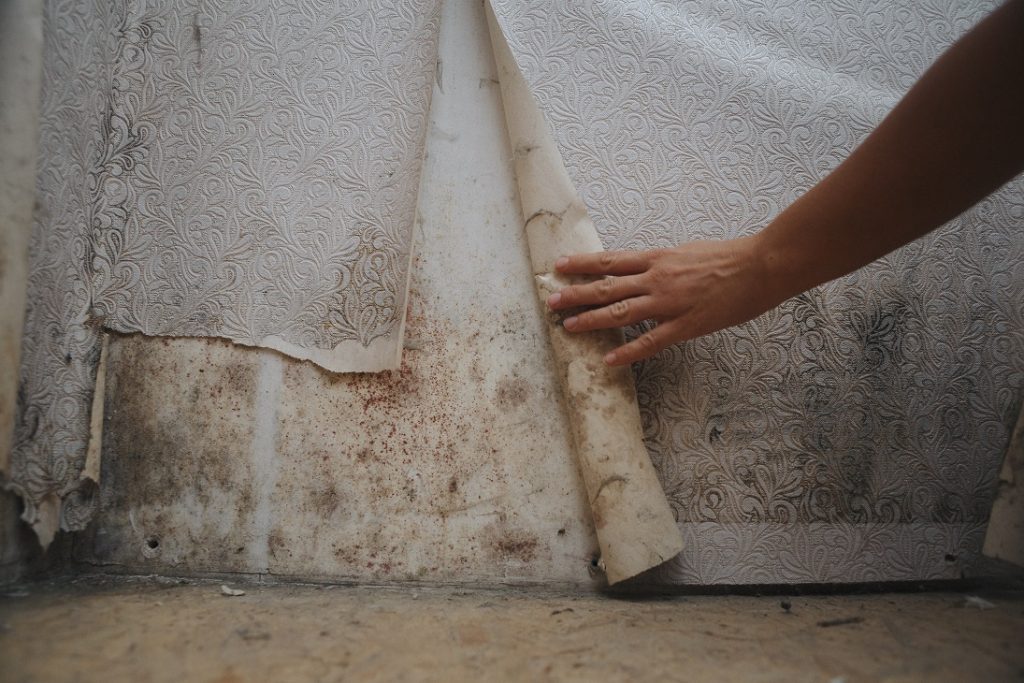 Mold may be a common issue in homes and buildings, but it is still a serious problem.  Mold can cause extensive damage to your home or building if it is not addressed, and it can negatively impact the health of those who are exposed.  Mold typically occurs in moist areas or areas affected by water damage and it feeds on porous building materials like wood and drywall.
Surfaces affected by mold will appear discolored and begin weakening and with enough time, the mold growth can cause severe structural damage.  It is important to have a mold issue addressed right away before it spreads to new areas, causes structural damage, or triggers health issues.
RestorationMaster provides mold remediation services in Berwyn, IL to remove mold growth from homes and commercial buildings.  Our technicians will locate and remove all mold growth on your property and restore the indoor air quality to a safe level.  After we finish the mold removal process, we will commission a third party to test your property to ensure that the mold has been effectively removed.  We guarantee that your property will pass the test after our mold remediation process.
Each of our technicians at RestorationMaster have passed a background check and can be trusted to provide effective mold remediation in your home or business.
Mold Remediation
Mold can cause a range of problems on your property which is why its presence is so dangerous.  Mold colonies cause significant damage to the surfaces they affect because surfaces like wood and drywall contain cellulose which is its main food source.  Mold can appear anywhere if finds this food source and moisture and it will continue to spread and eat away at the affected materials until it is removed.
The longer a surface is affected by mold, the more likely it is to become structurally unstable.  If you do find mold, you should not attempt to clean it yourself and instead call a mold removal professional like RestorationMaster.
In addition to the structural damage that mold can cause, it can result in serious health issues for those exposed.  Young children and the elderly have the highest risk of experiencing health complications from mold, but it can also trigger allergic reactions in those who have allergies.  Exposure to mold can cause the following symptoms:
Headaches
Breathing issues
Cold-like symptoms
Skin irritation
Allergic reactions
Asthma attacks
Itchy eyes, nose, and throat
Respiratory infections
Hypersensitivity pneumonitis
Mold Remediation in Berwyn, IL

For mold removal services in the Berwyn, IL area, contact RestorationMaster at (888) 915-7197.
Mold Removal Process
When you call us for mold remediation services, we will come to your property immediately to contain the mold and start the remediation process.  If the damage is extensive enough to justify filing an insurance claim, we will help you file the claim and directly bill your insurance company for the cost of the mold removal.
You can expect the following from our mold remediation process:
Assessment: We will start by assessing the extent of the mold growth and the damage it has caused. We will also determine the source of the moisture that caused the mold to grow and correct the issue to prevent additional mold growth.
Containment: Mold can spread by dispersing its spores which is more likely to happen when the mold colonies are disturbed. We will contain the mold growth by isolating the already affected areas.

Filtration: It is important to reduce the amount of mold spores in the air as well as remove the mold growth. Using HEPA filtration machines, we will bring the level of mold spores in the indoor air down to a safe level.

Mold removal: We will work to remove the mold growth from the affected surfaces using advanced cleaners and HEPA vacuuming. Mold cannot simply be covered up; it needs to be physically removed from the property.  If the affected materials are too damaged to be salvaged, we will safely remove these materials and ensure they are disposed of properly.  After removing the mold, we will remove mold stains from the affected surfaces and treat them with EPA registered antimicrobials.
Drying: Because mold growth is caused by moisture, we will make sure to dry the affected areas to prevent the mold from returning.
Final inspection/ testing: After completing the mold remediation process, we will bring in a third party to do a clearance test and ensure that the mold has been removed.
Mold can spread quickly and cause major health issues which is why you need to address it as soon as you see it.  Our technicians at RestorationMaster are trained and equipped to completely remove mold from your property and prevent its return. We will also help keep out of pocket costs low with our price match guarantee that applies to non-covered claims.  We will match or beat estimates from other professionals that adhere to the IICRC's standard of care.
Contact Us
Give us a call at (888) 915-7197 if you have mold on your property in Berwyn, IL.
---
Related Mold Remediation Services:
Mold Damage Restoration in Downers Grove, IL
Mold Remediation in Tinley Park, IL
Mold Remediation Services Oak Park, IL
Mold Removal Services Darien, IL
Mold Mitigation Burr Ridge, IL
Mold Removal Professionals Oak Brook, IL
Mold Removal Services Lombard, IL
Mold Removal Contractors Elmhurst, IL