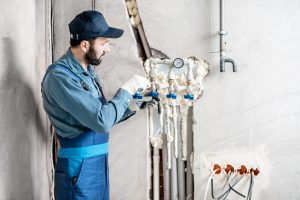 RestorationMaster offers numerous disaster restoration services in which our professional technicians will restore your damaged property and personal items.
The main services we provide include water damage restoration, sewage cleanup, mold remediation, biohazard cleaning, and fire damage restoration services.
The technicians we employ have IICRC certification and use advanced equipment and proven techniques to conduct restoration work. Prior to employment, every one of our staff members must pass a thorough background check. This ensures that only trustworthy, qualified individuals are working in and around your property. Additionally, we have developed several professional relationships that help make our restoration work as cost-effective and efficient as possible. These relationships include home inspectors, property managers, roofers, insurance agents and adjusters, realtors, and other contractors.
Call (888) 915-7197 at any time of the day to get in touch with RestorationMaster for your disaster restoration needs.
All of the remediation and mitigation services we provide are conducted by our certified staff of professionals.
From start to finish, RestorationMaster is your partner for property damage restoration.
Each of the technicians we employ has passed a background check.
Insurance doesn't cover all property damage, but we have you covered in the event your claim is denied or if you have a non-covered loss. We know everyone's financial situation is different, so we have partnered with a finance company that offers various financing choices to cover the price for water, mold, fire, and smoke damage cleaning. The financing options range from plans featuring free interest and no payments (when total is paid within the decided time frame) to fixed-rate installment plans featuring low minimum payments. With these options from RestorationMaster, you won't come across a better value for restoration work. Get in touch with us to inquire about financing options or learn how our price-match guarantee works.

Regardless of the source, water damage in your home or business must be addressed right away in order to prevent extensive damage. Whether the excess water is from rain, natural flooding, overflows, leaks, or pipe bursts, the water will quickly spread via porous building materials: drywall, woodwork, flooring, and more. These affected materials become damaged and may be affected by mold growth if the water isn't removed in a timely manner. With our water damage restoration services, RestorationMaster will help homes and businesses in Lombard, IL by removing excess water and restoring damaged materials and objects. Our technicians use advanced water extraction equipment to remove the water and use effective structural drying methods to address the effects of the water damage.

When a fire breaks out in a home or business, it can cause a devastating amount of damage that necessitates quick action and effective restoration. Once the fire has been extinguished, call for fire damage restoration help right away. Immediate help is necessary because the structural damage will worsen while smoke and soot keep spreading and causing secondary damage. With our fire damage restoration services, RestorationMaster will help homes and businesses in Lombard, IL by restoring and rebuilding fire damaged property. We stabilize and repair your residential or commercial business, and then we use advanced cleaning products and techniques to reverse the smoke and soot damage effects.

When mold appears in your home or business, it's a serious nuisance. Not only can mold cause significant property damage, but it can also cause severe health effects to anyone exposed to the fungus. Typically speaking, mold growth starts as a response to excess moisture, because moisture is a key ingredient for mold growth. The mold uses drywall, wood, and other building materials as food, causing structural damage to the materials. The longer the mold remains, the more damage the mold will cause, and the worse related health effects can be. With our mold remediation services, RestorationMaster will help homes and businesses in Lombard, IL by removing mold from the property. Our technicians will contain the mold to prevent it from spreading further and then remove the fungus. Additionally, we perform air quality testing to make sure we completely eliminate the mold from the property.

Standing water on its own is a serious issue, but it becomes an even bigger and more hazardous concern if the water involved contains sewage. Often, sewage makes its way into homes and other buildings via natural floodwaters that mix with sewage or via a sewage backup. This sewage-contaminated water is hazardous because the sewage has harmful toxins that cause disease and infection. It can also permanently damage any materials it affects. When you realize your property has sewage water, reach out to a professional right away. With our sewage cleanup services, RestorationMaster will help homes and businesses in Lombard, IL by cleaning sewage backups and floods involving sewage. Our technicians will remove the sewage-contaminated water in an effective manner in addition to cleaning, disinfecting, and restoring the affected areas.

Accidents and violent crimes are often overwhelming sights to encounter, but it can be even more so if these events occur on your property. However, in such a situation, it's imperative that you know how to respond, especially because you will be responsible for the cleanup. Scenes involving major injuries or deaths usually have blood and other biohazard materials which contain toxins that can spread infection and disease. Knowing this, the scene must be cleaned safely and properly. With our biohazard and trauma scene cleaning services, RestorationMaster will help homes and businesses in Lombard, IL, by cleaning, disinfecting, and restoring properties that have been affected by biohazard materials. We will not only work in a quick manner, but our technicians will be discreet with the service and treat clients in a respectful and sensitive manner.

When water gets into your home due to a flood, leak, or other issue, it can become a major problem.  Water gets absorbed in wood, drywall, furnishings, and other building materials which can cause these materials to become buckled, warped, or rotted.  These materials are also vulnerable to mold growth.  At RestorationMaster, we provide dehumidification services to thoroughly dry homes and buildings affected by water damage in Lombard, IL.  Our technicians use powerful drying and dehumidification equipment to effectively extract moisture from affected surfaces and materials.
Contact Us
RestorationMaster directly works with every major insurance company, directly billing your insurance carrier to cover the claim. With a price-match guarantee for non-covered claims, out-of-pocket costs are kept low. We will also match or beat other professionals' estimates so long as they meet the IICRC standard of care.
Our technicians have more than 100 years of experience combined, so you can trust that they are prepared to help with any kind of disaster. Furthermore, we are available to respond to your emergencies on a 24/7 basis.
To get help from any of the aforementioned disaster restoration and cleaning services, call (888) 915-7197 to reach RestorationMaster. We provide these services in Lombard, IL, and the surrounding communities.
---
Related Damage Restoration & Cleanup Services:
Emergency Disaster Restoration Services Elmhurst IL
Disaster Restoration Contractor Tinley Park IL
Disaster Restoration and Cleaning in Downers Grove, IL
Disaster Restoration and Cleaning in Berwyn, IL