RestorationMaster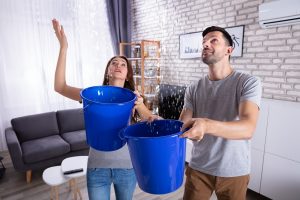 If excess water makes its way into your home or business, then it will quickly spread throughout the property via porous building materials and objects. When this happens, the water causes extensive property damage.
Usually, water damage is the result of some sort of a leak, but there are numerous other events that can lead to water damage: heavy rainfall, natural flooding, other weather conditions, sewage backups, burst pipes, and broken appliances among others.
When there's excess water, the initial damage it causes is wet carpeting and warped drywall or flooding. But it doesn't take long for this damage to worsen as excess water can cause structural damage in addition to mold growth. Because of this, water mitigation must be done immediately.
With our complete water damage restoration services, RestorationMaster can help water-damaged homes and businesses located in Lombard, IL.
No matter the source of the water damage, we can help restore your home using structural drying and advanced water extraction equipment. All of the technicians we employ have passed a background check and have the necessary training to work with water damage emergencies. Once you notice water damage in your residential or commercial property, immediately reach out to us for help so that we can contain the damage, restore affected materials, and prevent permanent harm.
Water Damage Restoration
Water damage can cause drywall, flooring, and woodwork to become discolored and warped, but that's just the start of the harm. As the water continues to spread, it will cause further damage. With enough water absorption, building materials will become unstable which will likely result in structural damage. Mold growth is also more likely to occur as furnishings and building materials take on more water. Knowing this, contact RestorationMaster right away for the water damage restoration services.
Water Damage Removal Process
With the proper training, experience, and equipment, our technicians can work on any water damage case. We use Rapid Structural Drying and other proven techniques to restore water-damaged properties. Within our water damage restoration process, we will use air movers and advanced dehumidification equipment to evaporate moisture and extract water.
Rapid Structural Drying works by helping quickly restore affected materials and items while also preventing permanent damage. To locate concealed water damage, we'll use moisture meters. This ensures that all excess water and moisture are removed from your property.
You may be unsure whether you should file an insurance claim for the water damage, but our technicians can help with that. We will figure out if the damage is significant enough for your insurance provider to become involved.
When we conduct our initial inspection, we do an assessment to determine the water source and whether the restoration costs are more than your deductible. If you file an insurance claim, we can provide direct billing to your insurance carrier.
RestorationMaster can be reached for emergency water mitigation on a 24/7, call (708) 571-2550.
What TO DO when there is water damage:
Do your best to stay calm and reach out to RestorationMaster for the emergency water mitigation services we offer.
Shut the water off at the emergency valve to end the flooding.
Before you unplug or remove any electrical devices, turn the circuit breakers off.
Place sheets of aluminum foil beneath all furniture legs. This protects the carpet against staining.
Pick drapes and curtains up from the floor.
Pick up any upholstery on your furniture that hangs on the floor.
Remove furniture, potted plants, books, and other items that might stain wet carpeting.

What NOT to do when there is water damage:
Do not remove water using your vacuum, because it can damage your vacuum and cause an electrical shock.
Do not place newspapers down on wet areas, because the ink from the pages may stain the wet carpeting.
Do not walk on wet carpeting more than necessary so you can prevent further damage.
Emergency Water Restoration Services
Call RestorationMaster right away if your home or business in Lombard, IL, has sustained water damage. Our technicians will provide water damage restoration services, starting by containing the water before restoring the damage.
We also offer a price-match guarantee for uncovered claims that will keep your out-of-pocket costs low. As long as they adhere to IICRC standards, we will match or beat any estimates you get from a professional.
RestorationMaster can be reached for emergency water mitigation on a 24/7 basis by calling (708) 571-2550.
---
Related Water Damage Repair Services:
Water Mitigation Company in Oak Lawn, IL
Flood Restoration in Orland Park, IL
Water Cleanup Professionals in Hickory Hills, IL
Water Damage Restoration in Tinley Park, IL 
Water Damage Restoration in Berwyn, IL
Water Damage Removal in Cicero, IL
Water Damage Restoration Burbank, IL
Water Restoration Burr Ridge, IL
Water Restoration Company Bridgeview, IL
Water Damage Repair Darien, IL
Water Restoration Services Oak Brook, IL
Water Restoration in Oak Park, IL