RestorationMaster
Although common indoors, mold is a contaminant that can result in numerous problems like property damage, air quality concerns, and health issues. Most of the time, mold will appear in response to excess moisture in the property. Knowing this, it's imperative to maintain control of your home or business's moisture level. Additionally, if there are any problems concerning excess water, they need to be dealt with immediately.
When mold spreads, it will discolor affected surfaces. Eventually, the damage will spread deep in the affected materials, leading to structural damage. Health-wise, mold exposure can be hazardous. The longer someone is exposed to the fungus, the more likely they are to suffer from serious health effects.
With professional mold remediation services, RestorationMaster helps homes and businesses in Lombard, IL, that are the site of mold growth. Within these services, our technicians will get rid of contaminated building materials, improve the air quality indoors, and restore the property to a safe and healthy environment. Furthermore, we make sure all mold has been removed by having a third party conduct clearance testing following our service.
When we're done with the mold removal process, we guarantee that your home or business will pass the clearance testing.
Call (888) 915-7197 to learn more about our mold remediation services in Lombard, IL.
Dangers of Mold Growth
When there's mold in your residential or commercial property, there can be many problems that arise. To grow, mold just needs a moisture source and a surface with organic matter, which the fungus uses as food. The mold will eat away at the materials, resulting in discoloration and eventual structural damage. If the mold isn't addressed in a proper manner, then the mold will continue to spread and cause damage throughout your property. It is not recommended that bleach be used to kill mold on porous building materials.
Instead, you should get help from RestorationMaster, where we have IICRC-certified mold professionals ready to work on your home or business.
In addition to structural damage, mold can result in significant health problems. Everyone is vulnerable to the health issues that mold presents, but some people, such as younger people and elderly individuals, are more susceptible. This is because such individuals tend to have weaker or compromised immune systems. For some people, mold can worsen chronic problems. The following are among the health issues that mycotoxin-producing mold strains can cause:
Coughing and other cold-like symptoms
Eyes, nose, or throat irritation
Trouble breathing
Headaches
Skin irritation
Asthma attacks
Allergic reactions
Respiratory infections
Hypersensitivity pneumonitis
Mold Remediation Process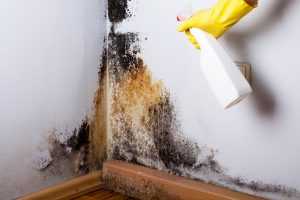 When you call RestorationMaster for our mold remediation services, our technicians will immediately respond. We will start by assessing the damage and creating a plan of action. All of the technicians we employ have undergone a thorough background check and are properly trained to handle any case of mold growth. We also directly bill your insurance company if you file an insurance claim.
Inspection: Before we remove the mold, we need to locate the moisture source that caused the mold growth. If we don't control the moisture, then mold will keep growing. Our mold remediation specialists will identify the moisture source and provide insight on how to fix it. When we have figured out the extent of the contamination, we then use our findings to create a remediation plan.
Containment: If mold is disturbed, it's easier for it to spread in the air, which makes it tougher to capture the mold spores. Our mold remediation specialists will contain the work area so that mold spores don't spread to other areas of your home or business.
Filtration: Not only does mold need to be removed from building materials and surfaces; it also needs to be removed from the air. To do this, we use HEPA filtration machines. This will reduce the number of mold spores lingering while also purifying the air.
Removal: As a living organism, mold can deeply embed itself into materials so that it can continue to thrive. Because of this, mold needs to be physically removed from the structures it has affected. If you try to cover it up, then the contamination issues will reappear later on. As such, the EPA doesn't recommend the use of bleach for mold removal efforts. Any unsalvageable materials that were contaminated have to be removed, thrown out, and replaced. To start the mold removal and remediation process, HEPA vacuuming is done to capture mold spores from the surfaces. To address mold stains, stain removers are typically used. To finish, we will apply EPA-registered antimicrobials to affected areas to stop the mold from coming back.
Drying: Following cleaning, we will make sure affected materials and objects are dry. We'll also speak with you about moisture management strategies so that you can stop the mold from coming back.
Final Inspection/Testing: We will conduct a thorough post-completion inspection once we're finished with the mold remediation. We have an outside lab come in to perform a clearance test to guarantee that the mold spore concentration has dropped and is at a safe level for an indoor environment.
Contact Us for Mold Remediation Services
If you notice mold in your residential or commercial property, it needs to be handled promptly. Without proper remediation, the mold can cause severe property damage and present numerous health risks. Call RestorationMaster for our professional mold remediation services. We will assess the damage and develop a thorough remediation plan.
With a price-match guarantee for non-covered claims, we also help keep your out-of-pocket costs low. If the service adheres to IICRC's standard of care, then we will match or even beat estimates from other professionals.
Call (888) 915-7197 for more information regarding our mold remediation services in Lombard, IL.
---
Related Mold Damage Restoration Services
Mold Removal in Tinley Park, IL 
Mold Removal in Berwyn, IL
Mold Remediation Contractors Burr Ridge, IL
Mold Removal Oak Park, IL
Mold Remediation Professionals Oak Brook, IL
Mold Removal Services Darien, IL