RestorationMaster
Fires are proof that incidents can occur on your property at any moment. Most commonly, fires are caused by candles, cooking accidents, electrical problems, and lint buildup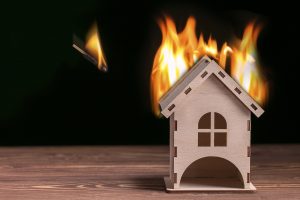 in the dryer vent — all of which are preventable situations. When there is a fire, it results in severe damage to affected materials and objects. Fires also produce corrosive byproducts like smoke and soot, and these byproducts will keep spreading and causing damage well after the fire has been extinguished.
Once the property has been evacuated, immediately call your local fire department to have the fire put out. Then reach out to a professional to help with the fire damage restoration.
With our fire damage restoration services, RestorationMaster helps fire-damaged homes and businesses in Lombard, IL, and the surrounding areas. With experienced technicians, we're able to work on any fire-damaged property no matter the extent of the damage. We will contain the damage and address the harm from corrosive byproducts. You need to call us right after the fire department leaves your property so that we can get to work promptly. If the damage isn't addressed in a quick enough manner, then it can become permanent.
At RestorationMaster, every one of the technicians we employ is well trained and has passed an extensive background check. Knowing this, you can trust that we will be ready to work on your property and provide exceptional cleaning and restoration services.
Fire Damage Restoration
When the fire department deems it safe to do, you should immediately call RestorationMaster for fire damage mitigation help. If you wait to begin the restoration, then the damage will only worsen. Soot and smoke are corrosive byproducts that will cause corrosion and discoloration to materials and objects. They reach areas unharmed by the flames, increasing the amount of damage after the fire is out. If not addressed promptly, then the damage from smoke and soot will become permanent.
We will get to work right away by containing the damage and stabilizing the structure. Using powerful cleaning products and restoration methods, our technicians will restore smoke- and soot-damaged materials and items. From pre-cleaning to rebuilding severely damaged areas, we will develop a complete restoration plan for your home or business.
You might be unsure whether you should file an insurance claim, and we can help you make this decision. We will evaluate the fire damage and compare the restoration costs to your deductible. With this information, you can more easily determine whether to file the claim. In the event you decide to move forward with the insurance claim, we'll directly bill your insurance provider for the cost.
Once the fire department has left your property, take the following actions to help limit the damage:
Immediately call RestorationMaster for our emergency fire mitigation services.
Open up all windows to lessen the smoke and fumes inside.
Have all kids and pets stay out of the home and in a safe environment free of smoke, such as a relative's home.
If you're without power, empty and clean your refrigerator.
Take photos of the damage as documentation. We will keep an inventory of damaged items and give you copies to keep and share with your insurance company and any authorities.
Following a fire, your property can be a hazardous place, and improper cleaning methods can worsen the harm. Avoid doing the following in the aftermath of a fire:
Do not try cleaning drywall, furniture, wood, and other porous surfaces.
Do not sit on any upholstered furniture.
Do not take medications that could have been affected by the fire and its aftereffects.
Do not consume or keep any foods that were exposed to the fire. This includes canned goods, too.
Do not place newspaper down on the ground to walk on. The ink can stain the surface below.
Do not use electronic devices and electrical appliances without professional inspection.
Contact Us for Emergency Fire Restoration
When the fire has been extinguished, immediately turn your attention to the restoration of your property. Call RestorationMaster for fire damage mitigation help. We will limit the damage and work efficiently to restore your property. With our price-match guarantee for non-covered claims, we'll also help keep the out-of-pocket costs low. So long as they adhere to IICRC's standard of care, we will match or even beat estimates from other restoration professionals.
We can be reached on a 24/7 basis for the emergency fire damage restoration services we provide in Lombard, IL, by calling (888) 915-7197.
---
Related Fire and Smoke Damage Repair Services:
Fire Damage Restoration in Tinley Park, IL 
Fire Damage Restoration in Berwyn, IL
Fire Damage Restoration Darien, IL
Fire Damage Restoration Services Burr Ridge, IL
Fire Restoration Services Oak Park, IL
Fire Damage Repair Oak Brook, IL