Hydroforce Restoration and Cleaning
Water damage has a number of potential sources. But regardless of whether it was caused by a leak in the attic, basement flood, sewage backup or other destructive disaster, it's important to act right away before the damage becomes worse. Mold growth can even spread in as little as 24 hours.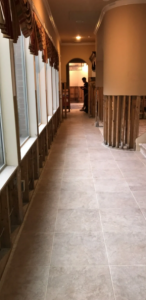 Hydroforce Restoration and Cleaning provides water damage restoration services in the Burr Ridge, IL area to remove standing water, dry out the affected air spaces, and restore safe conditions within your property. Our professionals use advanced equipment and methods to remove soiled building materials, set up drying equipment, and apply anti-microbials to prevent mold growth.
Water Damage Issues
Water damage can occur any time in your home or building, not just during the rainy season. Any porous building materials are also at risk of becoming ruined from the damage. As affected materials absorb the water, they can become stained, warped, swollen and even threaten the structural integrity of your property. This is especially true for carpet, insulation, flooring, drywall, and ceiling materials.
The moisture from this damage can also trigger mold growth, which can cause numerous health issues for everyone in the home or building. It will also consume the organic materials within your property, causing the need for replacement.
Water Damage Restoration in Burr Ridge, IL
For professional water damage restoration services in the Burr Ridge, IL area, contact Hydroforce Restoration and Cleaning at (708) 571-2550.
Our professionals at Hydroforce Restoration and Cleaning are available 24/7 to respond to water damage emergencies of all sizes. Whether it was one room or the entire building, our team of technicians is trained and experienced to handle the job. We will also replace any soiled materials, such as drywall, carpeting, wood flooring and others. For mold growth, our advanced products and equipment can remove it at the source.
Our water damage restoration services include each of the following:
Complete evaluation of the damage and development of the restoration plan
Water extraction
Detailed and strategic drying of all affected areas
Removal and replacement of building materials
Decontamination and cleaning
Mold removal, if needed
Odor removal, if needed
Water Damage Cleanup – What to Do:
Contact Hydroforce Restoration and Cleaning right away to prevent the damage from spreading.
Blot dry or mop up as much water as you can.
Remove any paintings, photos or other valuables from damaged walls and put them in a safe, dry location.
Wipe down furniture and prop up furniture skirts.
Place a piece of aluminum foil in between furniture legs and the floor to prevent the water from traveling up.
Leave books in their shelves and pack them tightly.
Lift all draperies, curtains, bed skirts and blinds from the floor and hang on a coat hanger to dry.
Turn on all fans to allow for air to flow throughout the rooms.
Flood Extraction – What to Avoid
Never enter any room with structural or electrical damage with standing water.
Never remove anything that's tacked down to the floor.
Never use a vacuum to soak up water.
Never touch any mold.
Available 24/7
Don't hesitate to contact Hydroforce Restoration and Cleaning at (708) 571-2550 for professional water damage restoration services in the Burr Ridge, IL area.
---
Related Services:
Water Damage Restoration Downers Grove, IL
Water Damage Repair Bridgeview, IL
Water Damage Mitigation Burbank, IL
Water Damage Restoration Services Oak Brook, IL
Water Restoration Services Oak Park, IL
Water Extraction Services Tinley Park, IL
Water Damage Repair Services Oak Lawn, IL
Water Damage Cleanup Orland Park, IL
Water Mitigation Berwyn, IL
Water Mitigation Services Hickory Hills, IL
Flood Cleanup Darien, IL
---
Recent Reviews
Review by Carlos Casanova
Disaster Restoration
Rating 5

"This company goes the extra mile in helping customers in difficult circumstances. When my home basement had flooding problems, Hydroforce responded quickly and worked with me on financial constraints. I certainly recommend this company for honest and accurate work done well."
---
Review by Daniel Joseph Izaguirre
Disaster Restoration
Rating 5

"Great company to do buisness with i recommmend hydroforce"
---
Review by Jessica Carroll
Disaster Restoration
Rating 5

"Joe responded so quickly and provide a quick turnaround time with our water damage. His team was great, provided great service, and explained everything that needed to be done. Highly recommended!"
All Reviews