Indoor flooding is one of the worst disasters a property owner may deal with because it can quickly cause structural damage, ruin personal belongings, and lead to mold growth.  The effects of the flooding can be much worse if the water contains sewage.
Sewage consists of waste materials that not only increase the amount of damage, often ruining furnishings and building materials, but also increase the risk of health effects.
You must avoid making contact with flood water that could contain sewage and call a licensed professional that can clean up sewage water safely.
At Hydroforce Cleaning and Restoration, we can clean up contaminated flood water and sewage backups in Orland Park, IL and throughout Cook County with our sewage cleaning services.
We use advanced water extraction equipment to remove the sewage water and we will thoroughly clean and decontaminate the affected areas to eliminate health risks. Our experienced technicians are highly trained to safely deal with sewage and they have all passed an extensive background check prior to employment for your protection.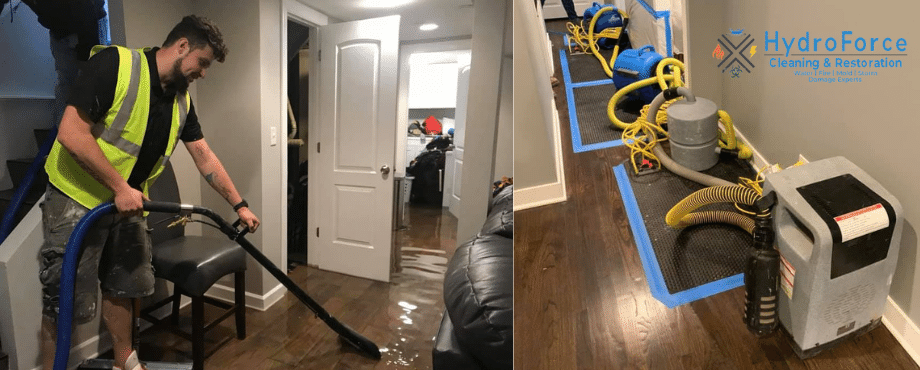 Sewage Backup
There are a couple of different ways that sewage can find its way into your home.  A sewage backup may occur in which a backup in the system causes sewage to come up through a drain, or flood water may mix with sewage before entering your home.
No matter how the sewage got into your home, you need to react with caution and call our professionals to remove these dangerous materials.  If you try to clean up the sewage yourself, you will be putting yourself at major risk for negative health effects.
Sewage in your home can cause the following problems:
Water Damage: Excess water causes significant damage by getting absorbed in building materials like wood and drywall. If the water contains sewage, the waste materials will get absorbed with the water and cause severe, often permanent damage.  Building materials that have absorbed sewage water need to be replaced more often than not.  The best way to prevent permanent damage is to call our professionals immediately for cleanup.
Health Risks: Sewage often contains harmful toxins including viruses, bacteria, and various microorganisms that can trigger serious health effects. Any contact with contaminated water will put you at risk, which is why we advise you to call us immediately if you have sewage in your home and avoid making contact with the water.
Sewage Cleanup in Orland Park,IL
Our technicians at Hydroforce Cleaning and Restoration are ready to remove sewage from your home whether there is a small amount of sewage from a leak or standing sewage water from a flood or backup.  We use advanced extraction and drying equipment to ensure that the water is removed, and we can also effectively clean and sanitize affected materials.  There is a good chance that many of the materials affected will be permanently damaged.
We will evaluate the damaged materials and determine if they can be saved or if they should be discarded.  Any materials that can be salvaged will be thoroughly dried, cleaned, and sanitized.
Depending on the level of damage caused by the sewage, you might want to file a claim with your insurance provider.  If you are not sure whether to file a claim, we can help you decide after fully evaluating the damage.  We also provide direct billing services to your insurance provider if you decide to file a claim.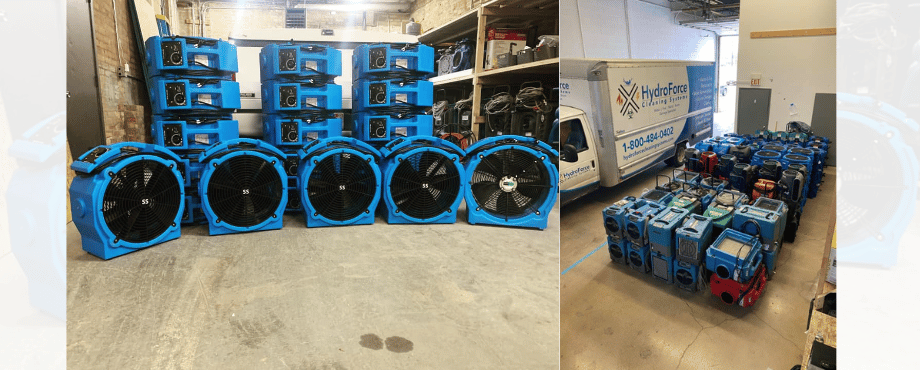 Contact Us anytime for Sewage Cleanup Services in Orland Park, IL
Sewage in your home or building requires immediate action to prevent extensive damage as well as disease or infection from the harmful materials.  Make sure you contact Hydroforce Cleaning and Restoration right away if there is sewage on your property in Orland Park, IL.
We will ensure that the sewage is completely removed, and we will clean and sanitize the affected areas so they are safe to use again.  Give us a call at (630) 528-2865 for swift sewage cleaning services.
---
Related Sewage Cleanup Services:
---
Why and How People Choose a Professional Contractor After a Home Disaster?
---
Recent Reviews
Review by Carlos Casanova
Disaster Restoration
Rating 5

"This company goes the extra mile in helping customers in difficult circumstances. When my home basement had flooding problems, Hydroforce responded quickly and worked with me on financial constraints. I certainly recommend this company for honest and accurate work done well."
---
Review by Daniel Joseph Izaguirre
Disaster Restoration
Rating 5

"Great company to do buisness with i recommmend hydroforce"
---
Review by Jessica Carroll
Disaster Restoration
Rating 5

"Joe responded so quickly and provide a quick turnaround time with our water damage. His team was great, provided great service, and explained everything that needed to be done. Highly recommended!"
All Reviews