Buildings in Orland Park, IL, are exposed to a variety of events that can lead to significant damage. Fires, floods, severe storms, mold growth, and major accidents are several such occurrences. When they take place, everything within the building is at risk. At Hydroforce Cleaning and Restoration, we address the damage to your belongings with our content cleaning and pack-out services.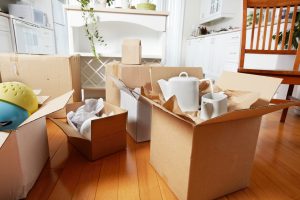 We will carefully pack up your items, ship them to one of our restoration facilities for repair, and store them until your building can be fixed. No matter the cause or extent of the damage, our restoration specialists will do everything possible to return your belongings to their original condition.
The technicians of Hydroforce Cleaning and Restoration have each passed a background check and have received our stamp of approval. We guarantee that they will handle your belongings with the utmost care and respect.
Our contents division implements an electronic inventory system that photo inventories, catalogs, and barcodes all of your personal property that were removed from your home or business. This time-saving technology aids in production and the precise tracking of your items. The pack-out process involves meticulous documentation to ensure your items receive the best possible care, including photo documentation, identification numbers, and detailed lists.
Pack-Out Services
A damaged building is no place to store precious personal belongings or important business equipment. Even if the building itself is not structurally damaged, your items can be affected or in the way during cleanup and restoration efforts. In many cases, these belongings can use repair of their own.
The best option is to allow our technicians to safely pack them up, and carefully ship them to one of our climate-controlled facilities for cleaning and restoration. We will develop a complete inventory of every item shipped (this includes photo documentation and identification numbers).
At Hydroforce Cleaning and Restoration, our technicians can restore essentially any damaged item. The cause of the damage is largely irrelevant. This is because of our vast experience as a disaster restoration and cleaning service provider. Many belongings that we commonly repair include:
Electronic devices
Important documents
Clothing
Books, photographs, and artwork
Furniture rugs
DVDs, VHS tapes, and CDs
Content Cleaning
Once your personal property arrives at our facility, we immediately begin sanitization and restoration procedures. Our goal is to return every item to its original condition. Everything will be inspected individually and restored using unique methodologies depending on what is required. We make use of advanced cleaning and restoration equipment and solutions to give your items the greatest odds of being fully recovered. Some of the techniques and processes at our
disposal include:
Ozone treatments
Ultrasonic cleaning
Immersion cleaning
Spray and wipe
Specialized drying chambers
Deodorization
Launder/dry cleaning
Storage Services
In many cases, we will complete our work before your building is fully restored. If this occurs, we will continue to store your belongings at our secure location until you are ready to receive them. Once your items have been cleaned, they will be delivered to your door. We will double-check our original inventory in order to ensure that nothing gets left behind.
In cases of damaged personal property, it is not always clear whether it is worth filing an insurance claim for the damage. Our technicians can inspect the damage to your items and advise you on whether it is worth it to file a claim. We also provide direct billing services to send the bill for your claim directly to your insurance carrier. We will also help keep out of pocket costs low with our price match guarantee that applies to non-covered claims.
We will match or beat estimates from other professionals that adhere to the IICRC's standard of care. At Hydroforce Cleaning and Restoration, we respond rapidly in emergency situations, and service those in need in Orland Park, IL.
To utilize our content cleaning and pack-out services, simply call our representatives at (630) 528-2865. 
---
Related Services
Smoke & Soot Damage Repair in Hickory Hills, IL 
Smoke & Soot Removal in Downers Grove, IL
Smoke & Soot Damage Restoration in Oak Lawn, IL 
---
Recent Reviews
Review by Carlos Casanova
Disaster Restoration
Rating 5

"This company goes the extra mile in helping customers in difficult circumstances. When my home basement had flooding problems, Hydroforce responded quickly and worked with me on financial constraints. I certainly recommend this company for honest and accurate work done well."
---
Review by Daniel Joseph Izaguirre
Disaster Restoration
Rating 5

"Great company to do buisness with i recommmend hydroforce"
---
Review by Jessica Carroll
Disaster Restoration
Rating 5

"Joe responded so quickly and provide a quick turnaround time with our water damage. His team was great, provided great service, and explained everything that needed to be done. Highly recommended!"
All Reviews