When a fire occurs, the flames can cause very serious and extensive damage.  However, in many cases, the flames are not the most damaging element.  Fires create corrosive byproducts like smoke and soot that can cause significant damage to the affected surfaces, and these elements commonly spread beyond the areas affected by the fire, even after the fire is out.  Soot will settle on objects and materials causing discoloration and tarnishing while oily residue from smoke can also damage various materials.  The odors from smoke will get absorbed in porous building materials, making it very difficult to rid your home of the odors.
Rainbow International Restoration of South & West Suburbs provides soot and smoke damage remediation services to clean up affected homes and businesses in Hickory Hills, IL.  Our experienced and trained technicians use powerful cleaning products and effective methods to remove soot and smoke damage from various materials and save them from permanent damage.  We can also remove lingering smoke odors with our deodorization methods.
Smoke Damage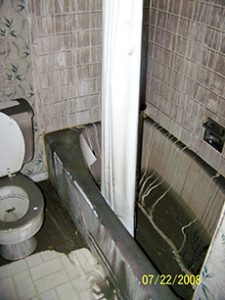 It is important to understand that soot and smoke will always continue to spread and cause damage after a fire is out.  There are also instances in which smoke and soot can appear without a fire.  Smoke and soot are high in acid which is why they are so destructive to surfaces and materials that they come into contact with.  Delicate and porous materials need to be restored within 72 hours or the damage from smoke or soot will become permanent.
You can trust our technicians to effectively and safely clean a wide range of objects and materials that have been damaged by soot or smoke residue.  The faster you react to the damage, the better chance there is of saving your damaged items.
When dealing with smoke damage, you may not be able to tell just how extensive the damage is and whether it is worth filing an insurance claim.  Our technicians can assess the full extent of the damage and discuss the possibility of filing a claim with you based on our assessment of the damage.  We also provide direct billing services to bill your insurance provider if you do choose to file a claim.
---
Odor Removal
One of the most difficult aspects of a fire to deal with is the smoke odor.  Smoke odors hang around for long after a fire because they get absorbed by porous building materials and fabrics including wood, carpeting, upholstery, and drywall.  We use advanced deodorization techniques that extract the odors from the air and damaged materials.  Our thorough deodorization will completely remove the lingering odors and help ensure that they don't come back.
Do not hesitate to contact Rainbow International Restoration of South & West Suburbs if there is damage on your property caused by smoke or soot.  Our experts can effectively clean up smoke and soot damage and remove any leftover odors.  Calling us quickly will start the restoration process soon enough to salvage smoke and soot damaged materials.
At Rainbow International Restoration of South & West Suburbs, each of our technicians are highly trained and have passed a background check before being sent to your property. We will also help keep out of pocket costs low with our price match guarantee that applies to non-covered claims.  We will match or beat estimates from other professionals that adhere to the IICRC's standard of care.
 Give us a call at (708) 571-2550 for smoke and soot damage cleanup in Hickory Hills, IL.
---
Related Services
Smoke & Soot Damage Restoration in Orland Park, IL
Smoke & Soot Removal in Downers Grove, IL
Smoke & Soot Damage Repair in Oak Lawn, IL
Smoke and Soot Damage Removal in Tinley Park, IL
---
Recent Reviews
Review by

Joanne Deangelo
Rating

"I just wanted to say thank you to the staff of Rainbow Restoration for all of their help and assistance when my home flooded."
---
Review by

Carlos Semanate
Rating

"Rainbow is the best water and fire damage restoration company. I have seen the awesome work that they do and that they always go the extra mile for the customers.Rainbow Intl always #1"
---
Review by

Lisa Perez
Rating

"Very pleased. They arrived when they said they would and did what they said they would do. Thank you guys for cleaning everything up. I would definitely use you again!"