Excess water of any kind can quickly lead to a number of problems in both residential and commercial properties. Flooring, walls, and other structural elements can become damaged, and so can your valuable belongings within the building. At Hydroforce Cleaning and Restoration, we provide water damage restoration services to property owners in Orland Park, IL. Through these services, we stop the inflow of water as soon as possible, remove the water and excess moisture, and restore affected areas. Our ultimate goal is to reverse the damage before any of it becomes permanent.
Every technician that we employ at Hydroforce Cleaning and Restoration has gone through a background check and earned our seal of approval. You can rest assured that our technicians are professional and trustworthy.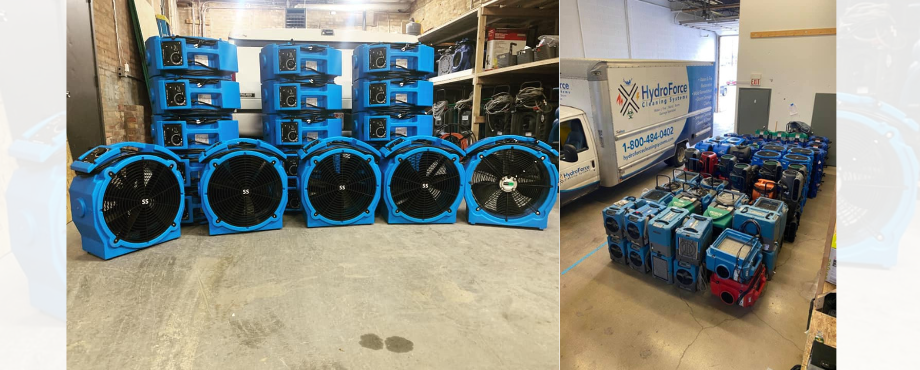 Water Damage Removal
Residents of Orland Park are exposed to all four seasons, for better or for worse. In the case of water damage, this means that your property is exposed to a greater number of potential causes. Frozen and burst pipes are relatively common in the winter, while heavy rain and flooding are more likely in the spring and summer. Other potential causes of water damage include sewage baforckups, general leaks in your roof or foundation, and similar events. In each case, the water and moisture can spread to other parts of your building to cause damage.
Discoloration and warping of building components (e.g. drywall, flooring, woodwork, and other porous elements) are major risks. Furnishings can experience similar issues, electronics can be destroyed, and valuable documents and books can be ruined. If you experience any level of water exposure on your property, it is critical that you call restoration experts right away.
For more information on water damage restoration, watch the RestorationMaster video:
Water Damage Restoration and Cleanup
No matter the extent of the problem, we respond rapidly to give your property and belongings a fighting chance against permanent damage. One proven method that we utilize is called Rapid Structural Drying. Through this process, we utilize advanced dehumidification equipment and air movers to naturally extract water from affected areas and items as well as evaporate excess moisture. This is a tremendous aid in the restoration process and can prevent permanent damage from occurring. We also use moisture meters to locate and eliminate hidden water and moisture.
In some cases of water damage, it can be difficult to tell if it is worth filing an insurance claim for the damage. Our technicians can help you decide if it is worth your time to file an insurance claim after we complete our inspection of the damage. If an insurance claim is filed for the damage, we provide direct billing to bill your insurance carrier for the claim.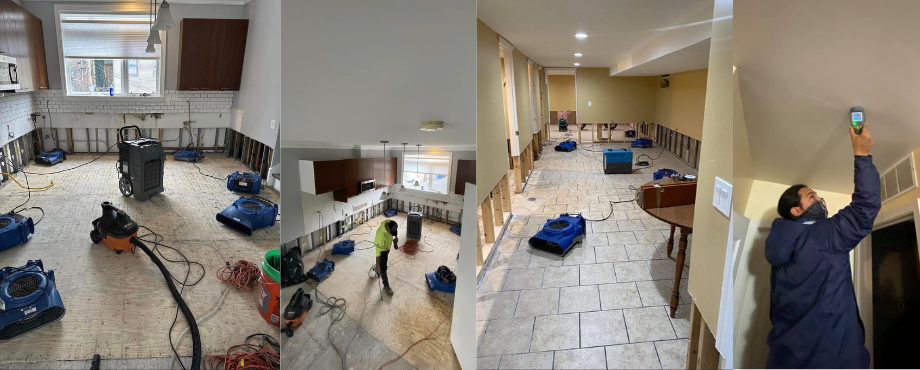 How You Can Help
There are a number of ways in which you can help preserve your building and belongings. If you experience water damage on your property, we encourage you to adhere to the following:
Contact our experts as quickly as possible (we provide 24/7 emergency-response services)
Turn off your water supply
Do not use a standard vacuum to soak up water
Turn off circuit breakers before unplugging electrical devices
Do not put newspaper on wet areas, as this can cause stains from the ink
Lift curtains, drapes, and upholstery off of the floor
Do not walk on wet carpeting
Place aluminum foil under furniture legs
Remove books, plants, shoes, and other items that could potentially stain your carpets
Hydroforce Cleaning and Restoration offers comprehensive loss documentation on fire and water losses with 3D technology:
We can capture any loss in its entirety, including its exact dimensions. Not only does this serve the purpose of thoroughly documenting the condition of the structure, but it also captures the condition of people's personal belongings and a business's inventory. We can easily share the job link with the customer, their adjuster, and the contractor that will be performing the build back. This type of documentation reduces disputes over the severity of the loss and improves efficiency all the way around.
When it comes to insurance claims, it is critical that we have an agreed scope of work with the adjuster. Providing meticulous documentation of the damage helps move the claims process along. If your home or business has suffered a fire or water loss, Hydroforce Cleaning and Restoration is your beginning to end resource.
Water Damage-Related Mold Removal
When the water damage has compromised your house's structural integrity and caused mold growth, our highly-trained technicians will proceed with the mold remediation process. We will first assess the extent of mold growth on your property and initiate containment measures. We will assist you with filling claims for both water damage remediation and mold removal to your insurance provider.
Based on the initial inspection, we will be able to pinpoint all mold-affected areas and identify the moisture source responsible for mold growth. Once we've identified the full extent of mold growth, we'll propose corrective measures for the moisture issue and formulate a remediation plan.
Mold can release spores when disturbed, so we take care to contain the affected areas to prevent spore dispersion to other parts of your home or building.
As vital as removing mold itself is purifying the air by eliminating mold spores. We achieve this using HEPA filters to enhance air quality.
Materials or surfaces that are too severely damaged for remediation are safely disposed of. Simply concealing mold is ineffective and may lead to future contaminations, which is why such materials must be removed. We begin and conclude the removal process with thorough HEPA vacuuming to extract mold spores from the air.
We sanitize nonporous surfaces and materials using antimicrobial sealants and cleaners. We can also treat your HVAC system if necessary.
In addition to our remediation services, we provide drying solutions and discuss moisture management strategies to prevent future mold growth.
Once our remediation is complete, a third-party specialist conducts a clearance test to ensure that the spore count has been reduced to safe levels. We make sure that your property will pass this clearance test, providing peace of mind.
Contact Us for Water Damage Emergency and Cleanup in Orland Park, IL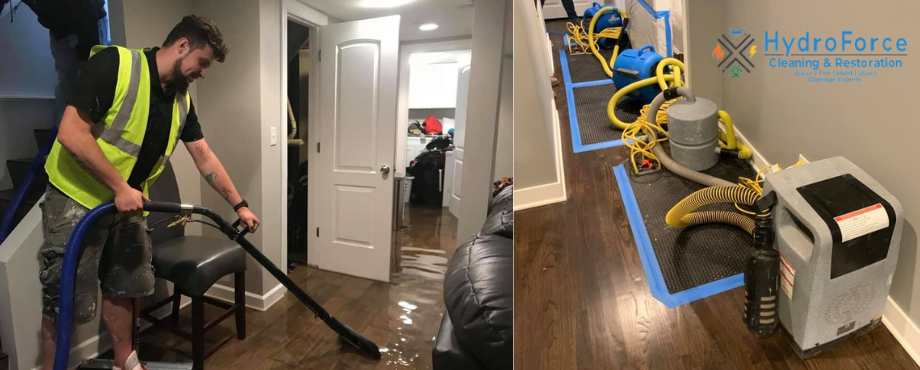 At Hydroforce Cleaning and Restoration, we are proud to assist property owners of all kinds in Orland Park, IL. Through our water damage restoration services, we will do everything in our power to return our building and belongings back to their original condition. We will also help keep out of pocket costs low with our price match guarantee that applies to non-covered claims.  We will match or beat estimates from other professionals that adhere to the IICRC's standard of care.
Our representatives can be reached at (630) 528-2865. We offer 24/7 emergency-response services as needed.
---
Related Water Damage Cleanup Services
Flood Restoration Services in Oak Lawn, IL
Water Damage Restoration Specialists in Hickory Hills, IL
Water Damage Restoration in Cicero, IL
Fire and Water Damage Restoration Bridgeview, IL
Fire and Water Restoration Burbank, IL
---
Frequently Asked Questions about Water Damage Cleaning and Remediation
How long does it take to restore a home after water damage?
The amount of time the water damage restoration takes depends on the level of damage. In general, the water damage restoration process can take 3-5 days, but it may take several weeks to dry and restore a property after experiencing indoor flooding.
How to Determine if Water Damage is Fresh or Old?
Seeing signs of water damage strikes fear in most homeowners. The visible water damage may, after all, be just a small part of a massive, hidden problem. Fortunately, for the most part, newer water damage may be easier to repair than long-term damage. Here's how to tell the difference.
How long does it take for mold to set in after water damage?
Mold is abundant in the natural environment. The spores are no stranger to indoor areas, too. When water damage strikes, mold can develop rapidly, often within 24 to 48 hours. However, several factors can impact how fast the mold colonies develop.
What to look for in a water damage restoration company?
1Evaluate experience
 Assess availability
 Determine timeframe
 Research equipment
 Review certification
 Ask about training
 Confirm licensure
 Look for proof of insurance
 Obtain help with insurance claims
 Receive references
Review other services
How long does it take to restore a home after water damage?
Recognizing water damage within your home is a crucial step, followed by immediate action to initiate the drying procedure. Swift intervention plays a pivotal role in impeding the water's progression, leading to significant time and cost savings during the subsequent restoration and drying phases. When faced with water damage, it's natural to inquire about the duration of the drying process. However, providing a precise timeline isn't straightforward, as the time required for drying hinges on various factors, such as the water source and its extent of dispersion. On average, the drying process for a water-damaged home typically spans around five days. Nevertheless, this timeframe is subject to variation, ranging from as little as 12 hours to potentially stretching up to several weeks.
How do you check for water damage?
Look for water rings
Check the porous surface
Find mold colonies
Notice structural decay
Why and How People Choose a Professional Water Damage Repair Contractor After a Home Disaster?
---
Recent Reviews
Review by Carlos Casanova
Disaster Restoration
Rating 5

"This company goes the extra mile in helping customers in difficult circumstances. When my home basement had flooding problems, Hydroforce responded quickly and worked with me on financial constraints. I certainly recommend this company for honest and accurate work done well."
---
Review by Daniel Joseph Izaguirre
Disaster Restoration
Rating 5

"Great company to do buisness with i recommmend hydroforce"
---
Review by Jessica Carroll
Disaster Restoration
Rating 5

"Joe responded so quickly and provide a quick turnaround time with our water damage. His team was great, provided great service, and explained everything that needed to be done. Highly recommended!"
All Reviews