The damage from a disaster hardly ever stays contained to a specific area and as a result, your home and personal belongings are at risk.  The structural elements and furnishings of your home as well as items such as clothing, electronics, important documents, artwork, and others can be damaged by flooding, fires, mold, and major storms.  It is important for all of your damaged belongings to be restored quickly after a disaster so they can be saved before the damage becomes permanent.  Rainbow International Restoration of South & West Suburbs provides content cleaning and pack-out services in Hickory Hills, IL as part of our general disaster restoration services.  Our technicians will pack up your damaged content so it can be sent to our facility for restoration and storage.
Content Pack-Out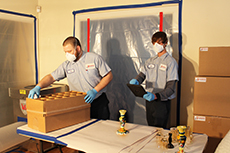 Most major disasters such as floods and fires cause widespread damage that affects your personal belongings and the structural elements of your home.  If the home or building is damaged, then it is best to remove your damaged items so they can be restored off-site while the building is being repaired.  At Rainbow International Restoration of South & West Suburbs, we provide pack-out services to take your content to our facility where it can be safely restored.  We make sure that each of your damaged items is carefully packed up and we create an inventory list with photo documentation and identification numbers for your records.
Our content cleaning services are effective for the following types of items:
Clothing
Electronic devices
Books
DVDs and VHS tapes
Rugs
Photographs and artwork
Documents
Content Cleaning and Restoration
After we carefully pack up your damaged items, we will take them to our climate-controlled facility for complete cleaning and restoration.  Our technicians will treat your content with the utmost respect and do what we can to get them fully restored to their original condition.  We start by inspecting each of your items individually to assess the damage and decide the best way to restore them.  Our advanced cleaning equipment and methods can effectively restore a variety of damaged content, even items that are heavily damaged.
We clean and restore damaged content with the following processes:
Spray and wipe
Immersion cleaning
Ultrasonic cleaning
Ozone treatment
Launder/ dry cleaning
Deodorization
Specialized drying chambers
We can store your content in our secured, climate-controlled facility while your home or building is being restored.  Once the restoration is complete, we will deliver your content right to your door.  As we load your content for delivery, we will repeat our inventory process to make sure that all of your items are accounted for.
You can trust our technicians at Rainbow International Restoration of South & West Suburbs to handle your personal items and restore them effectively.  Each of our technicians has passed a background check and received proper training to restore a range of damaged personal items.  We can also help you decide if you should file a claim to help cover the damage.  If you do file an insurance claim, we provide direct billing services to bill your insurance provider for the claim.
Dealing with a disaster is already bad enough but it can be more frustrating if there is widespread damage to your personal items.  At Rainbow International Restoration of South & West Suburbs, we can help save your damaged items with our content cleaning and pack-out services.  We also offer a price match guarantee in which we will match or beat any estimate that was done according to the standards of the IICRC.  You can call us at (708) 571-2550 if you need emergency content restoration in Hickory Hills, IL.
---
Related Services
Content Cleaning Services in Oak Lawn, IL
Content Cleaning & Pack-Out Services in Downers Grove, IL
Pack Out Services in Orland Park, IL
---
Recent Reviews
Review by

Joanne Deangelo
Rating

"I just wanted to say thank you to the staff of Rainbow Restoration for all of their help and assistance when my home flooded."
---
Review by

Carlos Semanate
Rating

"Rainbow is the best water and fire damage restoration company. I have seen the awesome work that they do and that they always go the extra mile for the customers.Rainbow Intl always #1"
---
Review by

Lisa Perez
Rating

"Very pleased. They arrived when they said they would and did what they said they would do. Thank you guys for cleaning everything up. I would definitely use you again!"