(303) 800-3404
If your family has had a serious death or injury in your home, we truly apologize. We understand how difficult this can be and are here to assist you in any way that we can. ServiceMaster Fire and Water Restoration offers biohazard cleaning services in Centennial, CO to remove bodily fluids and other biohazards from the scene of a death or injury. If there has been a crime committed, we will comply with all law enforcement that is involved to allow them to continue their investigation. Our trauma cleaning can be done quickly and efficiently and leave no trace of the event. Contact us today for further inquiries on our biohazard cleaning services.
Trusted Biohazard Cleaning Services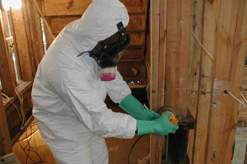 Here at ServiceMaster Fire and Water Restoration, we only hire the best technicians in the business. Our technicians have years of experience and are equipped to handle your biohazard cleaning needs. Biohazard materials can be dangerous and lead to the spreading of disease or infection. Your health is something that you should take very seriously which is why it is so important to contact us immediately. We use the following steps to remove all hazardous material effectively:
Decontamination: Once the blood or other biohazard materials have been removed, we completely sanitize the area.
Odor Removal: We will find the source of any odors and completely remove them.
Safe Disposal: We are able to safely dispose of all biohazard material.
Continuous Monitoring: We will be sure to thoroughly communicate with you throughout the entire process.
Insurance Assistant: We will assist you in communicating with your insurance company.
Family Assistance and Support: We will find counseling services for any family members that are having a difficult time processing the situation.
Certified Technicians: Our technicians have been specially certified to offer the best biohazard cleaning services available. We are in compliance with both local and state government regulations.
We understand the emotional toll that someone must go through who experiences a death or serious injury in their home. If biohazard materials are present, it is important that you contact us immediately to prevent the spread of disease or infection. Contact ServiceMaster Fire and Water Restoration anytime at (303) 800-3404 and inquire about our biohazard cleaning services in Centennial, CO.