(303) 800-3404
Mold is a very common problem in a large amount of homes in the United States. The reason that mold is so common is because everyday activities can result in mold damage. Mold spores are always present in the air and when an environment becomes present that offers both a food source and some level of moisture, this can lead to mold appearing in areas of your home. Luckily, ServiceMaster Fire and Water Restoration is here to assist you with this problem. If you live around the Centennial, CO area and are experiencing mold growth in your home, our technicians can be there in no time. Our technicians are some of the best in the business and have years of experience with mold remediation services.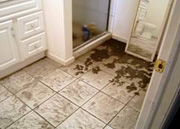 Water damage is one of the main calls we receive and because of this, mold remediation is a close second. The reason for this is because a common result of water damage is mold damage. Flooding, excess rain, or leaks can cause mold to appear in just a matter of days. The mold will erode your home and cause health problems. Mold can trigger allergies as well as cause respiratory problems. Ideally, it is best to avoid mold in the first place by avoiding excess moisture in your home, but here at ServiceMaster Fire and Water Restoration, we understand that these things happen and we are here to help you deal with them.
When you observe that mold is growing in your home, office, or building, contact ServiceMaster Fire and Water Restoration immediately. Our technicians will find the source of the mold, eliminate it, and prevent mold from ever coming back. Our technicians have been trained and certified to handle any mold in an area of 10 square feet or less. Anything that covers more than that will be handled by technicians certified by the IICRC.
Mold is not only destructive to your property, but it also can be destructive to your health. Mold damage is not something that should be taken lightly and if you notice any signs of mold, it is important that you contact ServiceMaster Fire and Water Restoration right away. Call us at (303) 800-3404 for mold remediation services in Centennial, CO.