(303) 800-3404
Here at ServiceMaster Fire and Water Restoration, we understand how difficult a hoarding situation can be. Hoarding affects the family, the community, and of course the hoarder. We understand that hoarders have a difficult time letting go of items such as trash, newspapers, and old clothing. As the trash and other items begin to collect, the hoarder's home may become hazardous and lead to health issues. Piles of items may not allow the hoarder and his or her family to have access to parts of the home. ServiceMaster Fire and Water Restoration provides hoarding cleaning services in Centennial, CO and will clean the homes of hoarders to make certain that the home is safe to live in again.
Reliable Hoarding Cleanup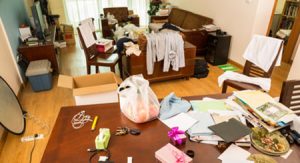 Here at ServiceMaster Fire and Water Restoration, we treat a hoarding situation different than our competitors. We know how difficult it is for a hoarder to part with his or her items. Hoarding is a mental condition that needs to be approached with sensitivity and understanding. Our technicians are trained to sanitize the area, clean up any biohazardous fluids that may have lingered, remove odors, and decontaminate the property. We follow all rules and regulations of the EPA, OSHA, and the Department of Transportation. Our hoarding cleanup services include the following:
Decontamination: We immediately remove all biohazard materials, like animals, feces, or bodily fluids. We will completely sanitize the entire area.
Odor Removal: We will find the source of odors and remove them.
Proper Disposal: We will dispose of all biohazardous material and save precious personal items like pictures and scrapbooks.
Hoarding is a difficult situation and we are here to take as much difficulty off your shoulders as possible. ServiceMaster Fire and Water Restoration will restore your home in Centennial, CO with our hoarding cleaning services, so that you can be provided with safe living conditions. We are available 24 hours a day, 7 days a week, 365 days a year. Contact us today at (303) 800-3404.