Outdoor Home Maintenance Tips: Get Your Home Ready for Spring
In the deepest, coldest stretch of the winter, it seems like the season will never end but when that spring weather does arrive, it feels wonderful just to get outside.  Once you finally step outside and see your home for the first time after the ice and snow has melted, you may be less than impressed by the way it looks.  The harsh winter weather is tough on the exterior of your home as the cold temperatures, ice, and snow can leave it slightly damaged and dirty.  This can drastically affect the appearance of your home which can leave a bad impression on your neighbors and friends if you host any spring or summer activities.
The following outdoor home maintenance tips will get your home cleaned up and ready for the spring and summer seasons.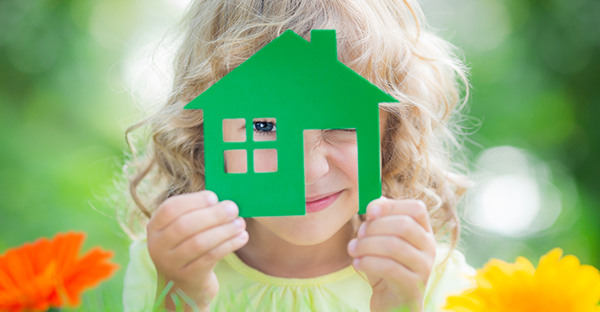 Clean and Inspect Gutters
During the winter, debris builds up within the gutters and the weight of the ice and snow can cause damage to the gutters and downspouts.  The first thing you should do is fully inspect your gutters and downspouts to make sure they are still intact.  If you find any loose gutter straps, make sure to reattach them.  It is best to call a professional to help repair your gutters if they have sustained significant damage over the winter.
You should also make sure to clean out your gutters because the debris buildup will prevent water from draining which can result in significant water damage.  The most effective way to clean your gutters is with a garden hose.  Spray the hose into your gutters in the direction of the downspouts and if one of the downspouts is clogged, remove the nozzle from the hose and stick the hose directly into the downspout to remove the clog.  If your home has experienced water damage because of clogged or broken gutters, make sure you call a water damage restoration professional to handle the damage.
Inspect the Roof for Damage
The roof of your home takes the most punishment during the winter due to the wind, ice, and snow.  Minor damage on your roof such as damaged shingles or holes can quickly become worse and cause major structural damage or water damage.  When you inspect your roof, make sure to look for rusted or pitted flashings, cracked caulk around objects on the roof such as pipes and skylights, and shingles that are broken, curled, or missing.  It is most effective to get on your roof to look for damage but if you are concerned about your safety, you can inspect your roof through binoculars or hire a contractor to climb onto your roof.
Power Wash the Exterior
Spring cleaning isn't just for inside your home.  Snow, wind, sleet, rain, and hail can leave your siding, deck, patio, and garden walkways looking dingy and worn.  The grime on the exterior of your home can be removed to refresh its look with power washing.  You can buy or rent a power washer to clean your home, deck, patio, driveway and sidewalks, and it is also effective for cleaning your grill and outdoor furniture.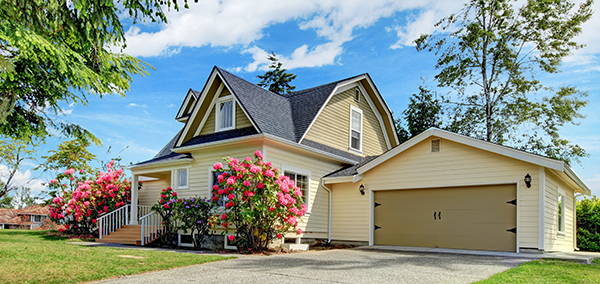 Check the Grade for Drainage
Good drainage is extremely important to make sure that water is removed far enough away from the home to avoid seepage or foundational damage.  Check the grading of the ground around your downspouts to make sure they are sloped enough for proper drainage.  A rule of thumb regarding the grading is that it should descend about half an inch for each foot it moves away from the house.  The easiest way to check the grading is to use a 2×4 by putting one edge against the foundation at ground level and measuring the distance between the ground and the opposite end with a tape measurer.  You must make sure the 2×4 is perfectly level for an accurate measurement.  This can also be done by staking a string in the ground by the foundation and pulling it taut and level.
Check the Sump Pump
During the spring, the frozen ground will gradually thaw out and a sump pump will help keep that water out of your basement.  It is important to test your sump pump early in the spring to make sure it is prepared to protect your home from flooding throughout the season.  You can test your sump pump by unplugging the front and back plugs and plugging the back plug back in, or by lifting the float sensor in the pit to make it think it is full.  If excess water or moisture has already entered your basement because of a sump pump malfunction, make sure you call a water damage restoration company immediately.
Plan and Prepare your Landscaping
While it may be too early to begin planting your garden or flower beds, you can do some spring cleaning in your yard to get it prepared.  Rake and remove fallen leaves and other debris from your yard and trim your bushes and trees.  Early spring is a great time to plan out your landscaping for the season.
The winter weather can have quite an effect on the look and condition of your home but these outdoor home maintenance tips will help you improve the look of your home and reverse damage caused during the winter.  It is also important to resolve any drainage issues with the grading or gutters because there is more rainfall in the spring and summer than any other season.  If you experience water damage in our home, you should immediately contact a professional for water damage restoration.  Ignoring water damage can lead to much more serious problems such as severe structural damage or mold growth.