303-800-3404
Water damage is tough to prevent because it can have so many causes such as rain, flooding, burst pipes, leaks, overflows, and sewage backups. However, even minor water damage can become a major problem by spreading through your home and increasing the risk of mold, so make sure you take action immediately. ServiceMaster Fire and Water Restoration provides water damage restoration services in Lakewood, CO to remove excess water from homes and businesses as well as clean up and restore the damage. We use the most advanced equipment of the industry to thoroughly dry affected structural elements, furnishings, and other content.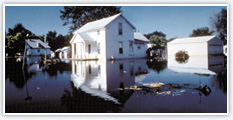 Water damage should be treated like an emergency situation because of how quickly it can spread and cause damage. Most common building materials such as wood, drywall, and insulation are porous which allows excess water and moisture to spread, and mold may appear in as little as 48 hours. Our technicians will immediately stop the spread of the water to prevent further damage and we use specialized drying equipment that can effectively extract water from building materials, furnishings, and other items. We also work with local insurance companies and provide assistance filing water damage claims.
Our water damage restoration services include the following steps:
Initial Assessment: We do a complete inspection of the home or building to assess the scope of the water damage and create a restoration plan to remove the water and repair the source of the damage.
Advanced Equipment: We use the most advanced cleaning products and equipment of the industry to restore the home to its original condition.
Thorough Drying: We can extract water and moisture from the furnishings, structural elements, and air spaces with specialized dehumidifiers and drying equipment.
Odor Removal: We can remove lingering odors from the excess water, mold, or mildew.
Regardless of how your water damage starts, it must be addressed immediately to prevent extensive structural damage as well as mold growth. If you experience water damage in your home or business in Lakewood, CO, contact ServiceMaster Fire and Water Restoration for water damage restoration services. You can reach us anytime at (303) 800-3404 for emergency water damage restoration services in Lakewood, CO.
---
Recent Reviews
---
Review by Tjty James
Disaster Restoration
Rating

"Cassie and her crews were incredible. She truly made me feel like the patient who finally meets the doctor who can cure his or her ailment. She was prompt, knowledgeable, friendly and professional. Servicemaster is very fortunate to have such a wonderful employee."
---
Review by Courtney Clark
Disaster Restoration
Rating

"Super professional and on time. Recommend them to anyone."
---
Review by Joseph Steffens
Disaster Restoration
Rating

"Was moving out of my home and called ServiceMaster to clean our carpets. They did an amazing job and their technician was very detailed and a true expert! Would highly recommend this company."
---
See All Reviews