303-800-3404
Several natural disasters including flooding, fires, and mold growth can cause unpleasant odors as well as physical damage that will linger for months in a home or building. Returning to a newly restored home or building that is still affected by a strong odor can be quite frustrating and it is also hard to eliminate lingering odors without the right equipment. ServiceMaster Fire and Water Restoration provides smoke and odor mitigation in Lakewood, CO to remove smoke odor and other odors from homes and businesses. We will effectively remove the odor as well as its source using the best deodorization equipment available in the industry.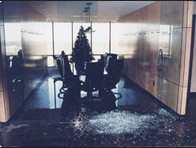 Unpleasant odors can be caused by flooding, mold, fire damage, or smoke and they are difficult to get rid of because they can permeate the furnishings and structural elements in your home as well as hang in the air spaces. We can effectively remove odors from the furnishings, structural elements, and air spaces using advanced deodorization methods including Nano carbon technology, ozone technology, thermal fogging, and hydroxyl technology. Our odor mitigation services are effective for removing the following odors:
Mold Odor
Smoke and Fire Odor
Pet Odor
Dead Animal Odor
Undetected Death Scene Odor
Our deodorization process consists of the following steps that address the odor and its source:
Location and removal of the odor source
Treatment of structural elements and furnishings
Treatment of affected air spaces
Air washing
Sealing of porous surfaces
Complete documentation of the deodorization process
Our smoke and odor mitigation services can remove these odors that commonly result from natural disasters:
Fire and Smoke: We can thoroughly remove odors from fire and smoke.
Water Damage Odors: Flooding often results in musty odors as well as mold or mildew growth which can also produce a musty odor. Our odor mitigation services can effectively remove musty odors from water or mold.
Biological Based Odors: We can eliminate odors caused by biohazard materials including bodily fluids and dead animals.
Living with a foul odor in your home is almost unbearable. If there is a lingering odor in your home or building in Lakewood, CO caused by smoke, mold, or something else, call ServiceMaster Fire and Water Restoration for smoke and odor mitigation. We can effectively remove a variety of unpleasant odors using the latest odor removal technology. You can call us 24 hours a day at (303) 800-3404 to learn more about our odor mitigation services.
---
Recent Reviews
---
Review by Tjty James
Disaster Restoration
Rating

"Cassie and her crews were incredible. She truly made me feel like the patient who finally meets the doctor who can cure his or her ailment. She was prompt, knowledgeable, friendly and professional. Servicemaster is very fortunate to have such a wonderful employee."
---
Review by Courtney Clark
Disaster Restoration
Rating

"Super professional and on time. Recommend them to anyone."
---
Review by Joseph Steffens
Disaster Restoration
Rating

"Was moving out of my home and called ServiceMaster to clean our carpets. They did an amazing job and their technician was very detailed and a true expert! Would highly recommend this company."
---
See All Reviews