(303) 800-3404
Fires can completely obliterate a home. They are unexpected, scary, and can cause severe damage. However, the fire is not the main cause of the severe damage to your home, the smoke and odor can cause more widespread damage. Smoke will always linger after a fire. Even small fires will leave remnants of smoke. That is why it is so important to contact ServiceMaster Fire and Water Restoration  immediately to remove all smoke and odor from your home or business in Centennial, CO. Our technology is state-of-the-art and unique from our competitors. Our technicians and equipment are the most effective in the business and we will work to completely restore your home.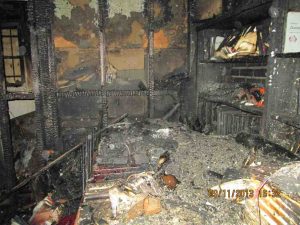 Sometimes the smoke damage is caused from a major fire, however, it is more common that it is caused by an everyday incident. Cigarettes, candles, stoves, are all everyday household items that can cause severe smoke damage to your home. You may think that the smoke will go away in a couple days from a minor incident, but that is not the case. Smoke will completely engulf areas of a home from small trivial fires. Our technicians will make sure that a small mishap will not severely impact your life. We will remove all smoke damage and take steps to avoid damage in the future.
Smoke Odor Removal
The most irritating part of smoke engulfing your home can be the smell that it leaves behind. Smoke odor leaves little mercy. Even small amounts of smoke can leave behind large amounts of odor. Our deodorization methods are the most efficient in the business and use advanced ozone technology. Our technology will completely remove all remnants of smoke, including the odor. Our process includes the following steps:
Assessment of the smoke and odor problem
Locate the source of the odor and have it removed
Deodorization of surfaces and materials
Deodorization of the air spaces
Air washing
Sealing of porous surfaces
Extinguishing a fire will not stop the damage from spreading across your home. Smoke and odor will continue to damage your home if you do not contact a smoke and odor mitigation company immediately. ServiceMaster Fire and Water Restoration offers top-of-the-line technicians, advanced equipment, and employees who care. Call us at (303) 800-3404 for smoke and odor mitigation services in or around the Centennial, CO area.