RestorationMaster
A house fire can be one of the most traumatic and shocking experiences for home and business owners. Disrupting the lives of these individuals, the smoke damage is both dangerous to their health in addition to causing permanent damage to the affected materials. While immediate treatment is necessary in order to limit the spread of the damage, RestorationMaster is available 24/7 to arrive quickly restore the damage and prevent it from spreading. While we service all types of areas from entire buildings to smaller apartments, our technicians provide emergency fire and smoke damage restoration services for all emergency situations in the Albany, OR area. With advanced restoration equipment and products, we guarantee to give you peace of mind during this time of distress.
Smoke Damage Repair
As we consider all soot and smoke damage cases emergency services, the damage created from these byproducts can quickly become permanent if treatment is not applied right away. Even after the flames have been extinguished, the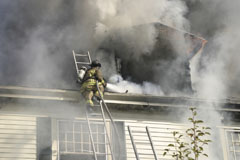 smoke and soot left behind will settle deep within the affected materials, compromising their structure; this is known as etching and tarnishing. This is why RestorationMaster will arrive right away to not only restore the damage but preventing it from spreading to other materials. We use advanced chemicals and products in order to create complex chemical reactions to effectively eliminate the soot while restoring the affected material.
Our team is also experienced in providing smoke and soot neutralization and odor removal services. This is to remove that strong smoke odor left behind after the fire is extinguished. Finally, our technicians will work to provide a safe environment for both you and your coworkers or family without having to face the detrimental effects of the fire and smoke.
Content Restoration from Fire and Smoke Damage

RestorationMaster also provides content restoration for any personal items that have been damaged by the fire and smoke. As each item is made up of different materials, they will require the use of different products in order to be effectively restored; therefore, we consider the structural composition of each belonging in order to determine the best solution.
In the event that a major loss has occurred, the current condition of the property may not allow for the effective restoration of your content. We also provide pack out services in which we will pack your belonging and securely transport them to our climate-controlled facility. Here, they will undergo complete restoration and remain in storage until the repair work on your home or building is complete.
The fire and smoke damage cleanup process includes the following:
Pre-Cleaning
Content Cleaning
Content Pack Out
Restoration of Building Materials.
Odor Removal
Fire Damage Cleanup – What to Do
Call RestorationMaster for immediate fire and smoke damage repair.
If the temperature on the property is above 60 degrees, allow for proper air ventilation by opening all windows and doors.
Clean all of the following materials as they are quickly affected by soot and smoke damage: Formica, porcelain, chrome, and aluminum.
Dispose of any open food containers.
Cover all air vents with double layers of cheesecloth to prevent the lingering soot particles from settling.
Place bedsheets over all furniture and upholstery to avoid additional soot from settling.
Deliver any damaged clothing to a professional restoration dry cleaning service to use within the next few days.
Make sure the electricity is off, then remove all items from the refrigerator, leaving the door open. Be sure to keep an inventory of all disposed items, providing a copy for your insurance claims agent.
Fire Damage Cleaning – What to Avoid
Do not touch anything that has been severely affected by the smoke and soot. Direct contact may cause the soot to settle in further and cause permanent damage.
Do not try to clean any of the building materials yourself as any DIY cleaning methods can only cause additional damage.
Do not try to restore any upholstery, contents, or furniture yourself.
Do not use any electrical appliances without first consulting a technician.
Do not operate any ceiling fixtures, such as lights or fans.
As soon as everyone has safely evacuated the property during a fire, it is imperative to call RestorationMaster immediately after the fire department. This is to limit the spread of the damage so you will not be stuck with additional costs in repair work in the future. In addition, delaying the call for help may allow the smoke and soot to cause permanent damage, leaving the affected building materials and content unsalvageable.
If you have recently experienced a fire in the Albany, OR 97322 area, do not hesitate to call RestorationMaster for 24/7 fire and smoke damage restoration services. We are also available in the Salem, Corvallis, and Lincoln City communities.