RestorationMaster
The condition of having a hoarding disorder can not only effect the life of the individual but everyone residing in the home. By accumulating hoards of items, unsafe conditions are created in developing fire hazards, slip and trip hazards, and severe structural damage. However, this disorder is not to be taken lightly as simply cleaning the property will not prevent the problem from reoccurring in the future. RestorationMaster understands this condition completely. This is why we take a compassionate approach when providing hoarding cleaning services in the Albany, OR area. We will not only remove the unnecessary items but sanitize the property of mold, mildew, biohazards, and other dangerous contaminants. With our frequent training and experience, we are able to clean properties of all sizes, effectively returning the home to a safe and sanitary living environment once again.
Hoarding Cleanup
While a hoarding disorder is not only unsafe for the affected individual, it affects all of those residing within the property. As mentioned previously, it can create unsanitary conditions including the development of mold and mildew. It can also create fire hazards in which the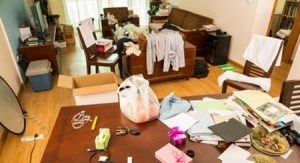 materials can cover the stove and exits may be blocked by other piles of items. Items that are commonly hoarded can include the following: antiques, books, newspapers, magazines, movies, knick-knacks, scrap metal, furniture, and more. However, RestorationMaster has the experience and manpower to handle hoarding cases of all sizes; we are committed to working with the individual until the entire property is safe again. We can also clean and restore any belongings that the individual decides to keep.
Our hoarding services include the following:
Removing unnecessary items and debris
Mold remediation and water damage restoration (if applicable)
Cleaning and restoration of valuable items, such as money and jewelry
Disposing of unnecessary items
Transporting unnecessary items that are still in good condition to local non-profit organizations
Help with required paperwork for government agencies, attorneys, and trusts
While it may be hard to come to admit that an individual has been affected by hoarding, they will need the help of a trusted love one to reach out to professional services for them. While it is certainly nothing to be embarrassed of, RestorationMaster understands the situation completely have we have assisted numerous individuals with hoarding cleaning services. We work to provide safe and sanitary conditions within the home again while working with the individual in the decision-making process of which items to keep and discard. We are available 24/7 for hoarding cleanup services at 888-915-8868 in the Albany, OR 97322 area.