RestorationMaster
Not many individuals are exactly educated on what to do when encountering a biohazardous scene. As it is both shocking and traumatic to the individual, they are often left without knowing what to do when encountering the unexpected. However, it is imperative to call a professional biohazard cleaning service immediately after the authorities to safely remove the dangerous byproducts. If treatment is prolonged, the blood, tissue, and other bodily fluids that have caused the damage can spread to other areas. However, RestorationMaster is licensed and trained to effectively restore both trauma and crime scenes in the Albany, OR area. With our biohazard cleanup services, we can ensure some peace of mind through this time of distress.
Crime Scene Cleaning
Discovering a crime scene can be shocking, especially if it is that of a loved one. However, it is very important to know what to do when this happens in order to limit the spread of the damage. First, you must remain calm and avoid direct contact with the biohazardous materials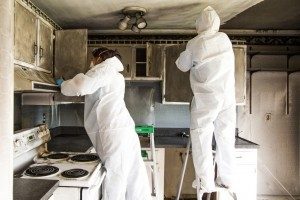 as they can cause negative health effects. Then you must call law enforcement right away so they can immediately open an investigation. Finally, the scene must be restored as soon as possible, which makes calling RestorationMaster imperative. Our technicians use powerful but safe cleaning products that will effectively remove all dangerous contaminants from the scene. Stains and remnants from the bodily fluids will be completely removed in addition to deodorizing the area. We will also work with law enforcement to not disturb any areas that have not been investigated already.
Our trauma and biohazard cleaning services include the following
Disinfection: The entire scene will be completely decontaminated of all biohazardous materials in addition to removing the disease-causing bacteria.
Deodorization: Our odor removing products and equipment will remove all foul smells lingering from the dangerous contaminants.
Proper Disposal: After removed from the area, the byproducts will be securely transferred to a medical waste facility for appropriate disposal.
Frequent Inspections: Our team will continue to monitor the scene to ensure that the dangerous byproducts do not grow back to contaminate the area again.
Help with Insurance Claims: Our team completely understands that this is a traumatic time for you. This is why we are more than willing to work with insurance companies to eliminate as much stress for you as possible.
Family Assistance and Support: We guarantee to work with a sense of respect and compassion. By doing this, we can also refer grieving families to a certified counselor to assist with the recovery process.
Licensed Professionals: Each of our technicians are highly experienced and licensed to work with all current state and federal laws regarding the cleanup process.
If you discover any of the following, contact us right away: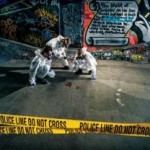 Violent homicides or crimes
Serious injuries, accidents, or deaths
Suicides
Unattended deaths
Car accident biohazard cleanup
Hoarding
If you or a loved one have recently discovered a biohazardous scene on yours or their property, do not hesitate to call a certified biohazard cleaning company immediately after law enforcement. This is to eliminate the spread of the damage caused by the contaminants. RestorationMaster is available 24/7 at 888-915-8868 to provide emergency biohazard, trauma, and crime scene cleaning services in the Albany, 97322 OR area.