People often see crime and accident scenes when watching movies and television shows, but it's much different — and dangerous — to come across these in real life. In reality, these scenes can be overwhelming and traumatic. The chance you encounter such a scene in your home or business is low, but it's still possible, making it important that you know how to respond if it ever does happen. These scenes usually contain the presence of bodily fluids and other biohazard materials, which can spread disease and infection. Because of this, they are dangerous to handle and should be cleaned only by a professional.
With our biohazard and trauma scene cleaning services, ServiceMaster of Baltimore will safely clean and restore homes and businesses in Towson, MD, that are the sites of trauma scenes containing biohazard materials. The technicians we employ have advanced training, so they know how to safely remove biohazard materials from your property and then properly clean, sanitize, and restore the scene to a safe living/working condition. In some situations, the scenario may regard the loss of a loved one, and this is why our staff always treats clients with compassion.
Dangers of Biohazard Materials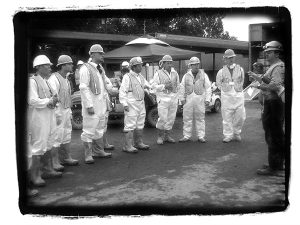 When a death or serious injury occurs, the scene will usually be contaminated by biohazard materials, which can spread infection and disease. Knowing this, you must not come into contact with the biohazard materials. However, law enforcement and emergency personnel do not have the training or equipment to clean the scene nor are they responsible for that. Property owners are tasked with the cleaning responsibilities, so you should contact ServiceMaster of Baltimore to have our licensed professionals take care of it.
We will use advanced cleaning products and techniques to effectively and efficiently clean all traces of the biohazard materials and restore your property to a safe condition. Furthermore, we are compassionate and respectful to those individuals who are in the grieving process.
Within our biohazard and trauma scene cleaning services, we clean up the following:
Biohazard materials
Natural death
Homicides/suicides
Crime scenes
Industrial accidents
Unpleasant odors
Hoarding and gross filth
If your home or business is the site of an accident or violent crime, then you must keep your distance from the scene and any biohazard materials present. After alerting the necessary emergency personnel and law enforcement officials, call ServiceMaster of Baltimore at (410) 690-7508 for the biohazard and trauma scene cleaning services we provide in Towson, MD, on a 24/7 basis.
---
Related Biohazard and Trauma Scene Cleaning Services
Biohazard and Trauma Scene Cleaning in Annapolis, MD
Biohazard and Trauma Scene  Cleaning in Bel Air, MD 
Biohazard and Trauma Scene  Cleaning in in Ellicott City, MD 
Biohazard and Trauma Scene  Cleaning in Baltimore, MD