888-915-8868
Tragic events like accidents and violent crimes happen from time to time as they are largely beyond our control. These tragedies are difficult to deal with and if such a scene unfolds on your property, it can be emotionally overwhelming and dangerous because of the biohazard materials. After notifying law enforcement, your next call should be to a licensed restoration professional to safely clean up the scene. RestorationMaster provides biohazard and trauma scene cleaning services to clean up biohazard materials from trauma and crime scenes in Summerville and Goose Creek, SC and disinfect the scene. We use powerful cleaning equipment to restore the area to its original state and we are sensitive to the overwhelming emotions caused by the tragedy.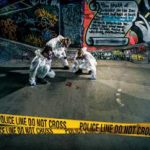 Scenes in which a death or accident has occurred typically contain biohazard materials including blood, tissues, and bodily fluids that are very dangerous to handle. Improper cleaning of these materials can easily spread infection or disease, making it crucial to have a licensed professional handle the cleanup. Our powerful cleaning products and equipment are the best in the industry and allow us to completely remove all biohazard materials as well as stains and odors. We will fully disinfect the scene to make it safe for use and we work within state health and OSHA regulations.
Biohazard and trauma scene cleaning are not typical cleaning services because there is a tragedy involved as well as grieving from friends and family members. Our technicians are sensitive to the emotions of those who are grieving and approach these situations with compassion and respect. We also show up in unmarked vehicles to keep your privacy protected and work discreetly to get the scene restored as quickly as possible. Removing all physical evidence of the tragedy is an important step towards recovery.
You can expect the following from our trauma and crime scene cleaning services:
Respect for your privacy and emotions from our technicians
Thorough cleaning and disinfection of the scene including complete removal of all biohazard materials
Cooperation with law enforcement as they carry out the crime scene investigation
Safe transport and disposal of biohazard materials at a medical waste facility
Encountering the scene of an injury or death can be quite a shock but it is very important to take the right actions for your safety. Once you have called the proper authorities, you must contact RestorationMaster to provide biohazard and trauma scene cleaning services. We are available 24 hours a day at (888) 915-8868 to provide emergency response in Summerville and Goose Creek, SC.