888-915-8868
No matter how good you clean your home or building, it is impossible to avoid dust buildup.  In fact, it is estimated that the average home has around 40 pounds of dust circulate through it in a year.  Much of this dust circulates through the breathing air and ends up in the HVAC system where it can affect the internal components and build up along the air duct walls.  RestorationMaster provides air duct cleaning services to remove the built up debris for homes and businesses in Summerville and Goose Creek, SC.  Our air duct cleaning services will improve your heating and cooling efficiency as well as the quality of the indoor air.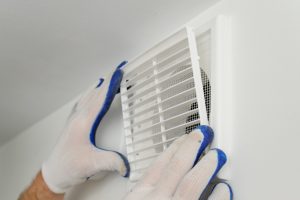 The dust and debris that floats in the air of your home or building ends up getting drawn into the HVAC system when it runs the heating or cooling.  This debris buildup on the air ducts restricts the airflow which causes the system to work harder and less efficiently while the buildup on the component parts makes them much more likely to malfunction.  Much of the debris buildup also gets pushed back into the breathing air, contributing to poor indoor air quality that could have adverse health effects.
Our air duct cleaning services are effective for removing dust and debris buildup to help improve the efficiency of the HVAC system as well as the indoor air quality.  It is best to have this service done once every 3 years or so to keep your HVAC system running efficiently.
We can clean the following components of your HVAC system:
Air ducts
Heat exchangers
Fan motor and housing
Air handling unit housing
Vents and registers
Drip pans
Heating and cooling coils
Grilles and diffusers
By improving the overall efficiency of your HVAC system, our air duct cleaning services will result in noticeably lower energy bills and better indoor air quality.  Contact RestorationMaster for professional air duct cleaning services for your home or business in Summerville and Goose Creek, SC.  We are available 24 hours a day at (888) 915-8868 to answer your call.